When you think of boxing, an outrageous sport comes to your mind. A sport that displays rage, swiftness, aggression and passion. Considering that the sport has a high level of physical activity involved, one must choose the routine and the equipment very wisely. After a warm-up routine of skipping and body weight exercises, one has to do shadowing in the mirror.
More than half the time is spent on this, then finally he has some time remaining wherein he put his mitts on, and enters the ring. This is the time that he has to make the most use of, the time where he has to show his skills, the time that he has to develop his skills and the time that he has done all the hard work for, and what becomes one of the main factors of his success? His mitts. Thus, boxing mitts must be chosen very wisely according to the requirement of the boxer.
Top 5 Best Boxing Mitts Reviewed
SunMall Boxing Mitts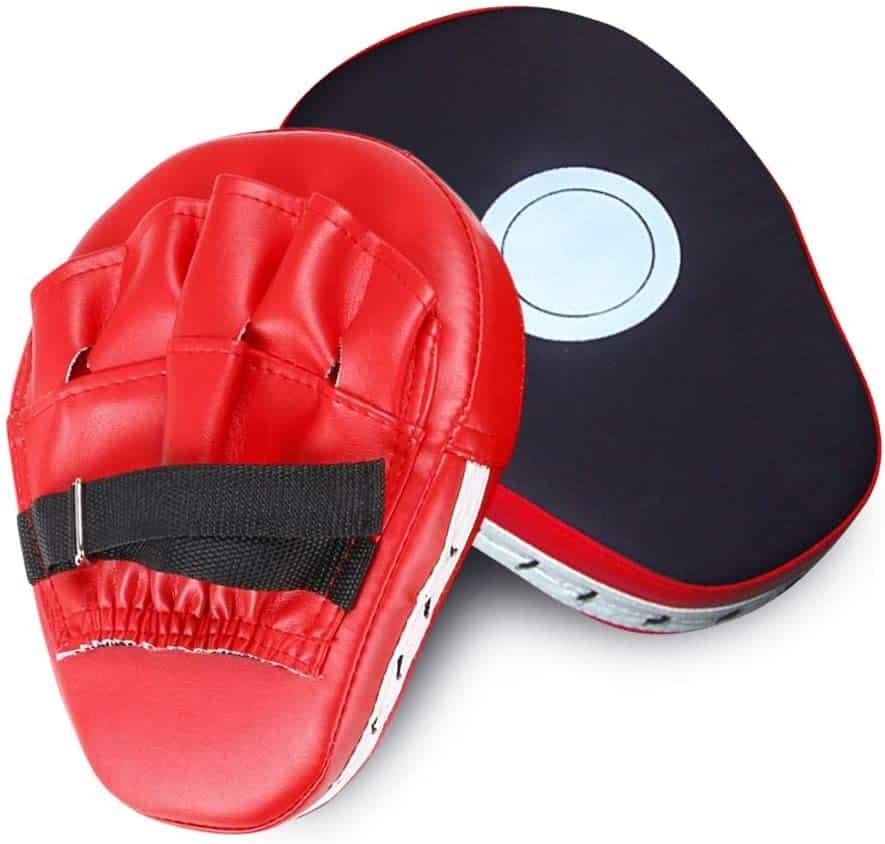 One of the most ideal, inexpensive and best-rated product in the market are these pair of Sunmall boxing mitts. The mitts are easily removable and give out a very comfortable grip for the trainer. There is elastic on the back of the glove which allows the glove to be put on and putt off easily. The glove has the perfect padding which is gentle yet very comfortable.
Features
One of the main features of these gloves is that it contains a number of high potency padding that resists the pain and shock of hard kicks and punches.
These mitts help the martial artists and the boxers to improve their coordination, footwork, punches and defense movements.
The mitts are durable and of high quality. This boxing target pad is made of flexible and lightweight foam which provides high shock absorbency and the leather of the mitts is easy to clean and maintain.
The sponge of these mitts is highly flexible and helps in rapid recovery after hitting. It also does not hurt the coach or the trainer.
These gloves are great for kids as well as adults because of their unique design. They help children and adults to improve striking skills and ensure the training effect.
These mitts are reasonably priced and have a lot of features which may also benefit its usage for children as well as adults. Thus, if anybody is looking for general training gloves, these become ideal.
Punch Mitts – Boxing Mitts
These mitts are made of premium synthetic leather that aim at giving long-lasting durability and are ideal for MMA and boxing target pads. These mitts have been designed in a manner that they prevent any injury, both for the fighter and the opponent. They have a velcro strap and have a high level of wrist protection to avoid any possible injuries.
The material that is used in the making of these mitts is very durable. There is also a double stitch on the stress points so that the material does not tear apart.
The best part is that it has a year warranty. If the customer does not like the mitts or has issues with anything, they can directly contact the customer care and get it corrected or they can get their money back as well.
There is a grip ball inside the focus pads of the mitts.
It has a multi-layered foam pad coverage and is curved boxing mitts.
These punching mitts are breathable with air panels. Training for long hours is simpler with these sweat-free and shock absorbent mitts.
It has a loop and hooks with a Velcro Closing for ultimate wrist support.
Suitable for kids as well
These mitts are fairly priced and have an injury resistant body. They are a good buy if someone is looking at trying out some general gloves for any age group.
RDX Boxing Pads Gel Focus Mitts
The tri-layered foam padding is compressed and slabbed strategically over the other to provide ta very efficient shock-absorbency in a pair of focus mitts that have ever been used. It aims and building power, speed and the hand-eye coordination of the boxer and are designed for quick-combo drills that are done with strength. The ball dome that is inside the mitts aligns in the palms of the hand very comfortably for grip and resistance when the boxer is tapping and striking. These pair of pads look extremely thick and sturdy and are stitched from the finest and the most durable materials to give them a very long life.
Features
The materials that are used for the sticking are extremely durable in nature
Authentic Cowhide leather is used for making these mitts. Using this material, the firmness and longevity of the mitts increase. They become more crack-proof, don't tear or split apart and are more sturdy.
These mitts are made using three layers of compact gel that provides shock resistance to the boxer, ensure the safety and avoid possible injuries.
These mitts use the Ez grip ball which ensures that the hand and wrist alignment is maintained along with the boxer having a solid hold on the gloves.
These mitts have a very ergonomic design that helps you focus on your training with utmost comfort instead of eating time on the refitting of the mitts.
A very expensive, yet a very wise choice for professional training. This is a pro-level product that protects you and gives you an edge over any other boxing mitt.
Sanabul Essential Curved Boxing Punching Mitts
The mitts fit perfectly according to one's hands and are very easy to glide in and out. So that the boxer and the opponent feel just the impact and not the pain of these punches, these mitts have an ultra-light foam that does not lead to heavy punches, but impact ones. As and when one takes more punches, the grip can become uncomfortable and the fit can get lost. The usage of half ball palm grips in these gloves solves the issue. These mitts have been used by many famous sportsperson such as Mike Lee.
Features
These mitts are made with high quality engineered leather that takes thousands of punches without cracking
To reduce the impact of your opponent's punches, impact protection foam has been used. It protects your hands as well as it is extremely light.
Half ball palm grips have been used for extra comfort and to fit into small hands as well.
These are highly sick absorbent and are very durable because of the use of high-quality material
These are suitable for any size of the hands due to its ball palm grips
These pair of gloves are rated as the best seller on amazon and the top ranged gloves. They are moderately expensive and happen to become of one the best and safe buys for everyday boxing.
Yaheetech Punching Boxing Mitts
These gloves have an overall size of 9.4 x 7.9 x 2" and width of Magic tape 1". They are made of Polyurethane (PU) Cover & Sponge. These are the most inexpensive gloves one can find. A typical under 10$ buy. They are suitable for starting up with the boxing career, warming up and general training.
Features:
The high-density sponge of the gloves absorbs the impact on your hands effectively and it also protects your hands from any sudden violent movement.
The boxing pad has a five-finger glove back. This kind of design helps in sharing the strength evenly in order to protect the boxer's wrist.
These Boxing mitts are perfect for Mauy Thai Boxing, Thai Kick, MMA training and to exercise and improve a boxer's boxing skills. They are also suitable for anyone looking for a boxing, kickboxing or any cardio kickboxing workout.
These mitts have a wrist strap with a magic tape, that helps you hold the pad firmly in order to protect your hands from sliding or hurting.
These gloves are covered by premium PU. The sides of these mitts are sealed with rope. The durable punch pads aim at offering you a very comfortable wearing experience.
One of the most inexpensive, yet his quality buy for boxing mitts. Although on a professional level, these mitts may not last a long time, they turn out to be ideal for somebody who randomly decides to take up boxing.
Questions that you should ask yourself before selecting Your Mitts
What is your purpose for boxing? Do you want to fight? Is it for releasing aggression, is it for self-defense or just an exercise?

How heavy are you?
Do you want laced gloves or Velcro?
How much padding do you want in the gloves?
Which material are you looking for?
What is your budget?
Conclusion
Considering the fact that boxing is largely increasing lately. Children have become aware and want to take up boxing as a sport. It is also one of the major sports that help in releasing stress and anger. Boxing is also one of the only sport that is used as an exercise while doing gym. This makes it a highly demanded sports both for men and women. Keeping this to one side, as much as people want to learn a new sport, they also want to have the best product for it. They want to invest in safe and durable equipment. For obvious reasons, quality and features come with a lot of prices, however, the buyer needs to decide the purpose that he is taking up the sport for.
If the mitts are being bought for an exercise in the gym which is generally with the boxing bag, then they need not worry about the defence injuries and can invest in something with reasonable protection but good shock absorption. If a person is willing to take up the sport professionally, he must begin with picking up good training gloves and then ascend towards buying heavy professional gloves. Since the heavy gloves can not be borne by every boxer and the strength to hold them in the ring for a long time comes only after a lot of practice. Professional boxers must invest in high quality, comfortable and shockproof gloves because they have to sustain them for a long period of time as well as stay safe in the ring. Thus, the mitts must be very safe to use.
However, like any other equipment, boxing mitts also have a wide variety, range and features which must be evaluated by the buyer according to his needs before the purchase of the product. Boxing mitts being the main equipment of boxing, can make or break the career of the boxer.