Are you looking for the Best Boxing Gifts For Him? Fear not, we are here for you, armed with multiple boxing-themed gifting ideas, making your life a lot easier.
Gifting should never be hard as it is a selfless act of appreciation toward someone important to you, though it can be a very self-gratifying experience.
It does not matter if your reason for gifting is an expression of love, to celebrate a birthday, an apology, to appreciate someone special, an anniversary, to thank someone or to congratulate them, these ideas will all definitely be of help.
Here Are Some Unique & Best Boxing Gifts ideas-
Boxing Books
Everyone can think of basic gifts like getting a boxer a pair of gloves or shoes, but not many people think of getting them the books on boxing, and there are a lot of inspiring books to choose from. We have listed some of the best boxing books to make it easier for you, but there are a lot more options available.
Undisputed Truth by Mike Tyson
Undisputed Truth is a must-have for every athlete, not only boxers. It is an autobiography of one of the most popular boxers in the world, Mike Tyson.
His is the kind of inspiring story that can change someone's life forever. It covers his journey from a dysfunctional family to the king of the ring. Every boxer or boxing fan would have at least heard of this book if they have not read it already. It is a great gift, and the paperback version is very affordable.
Dark Trade by Donald McRae
This book has a lot of information on boxing and the legends of boxing, making it a very interesting read. Mike Tyson, Ray Jones and a lot of other boxers are particularly featured in this book. It is rare to find such accurate details of the famous fighters' lives. The book is slightly pricey, but definitely worth every penny, and would make your boxing fan very happy.
King of the World by David Remnick
King of the World is a biography of Muhammad Ali. It mainly focuses on his victory in the Olympics to his fight with Sonny Liston. It covers his involvement in the civil rights movements, when he refused the draft and spent five years in prison, giving up his championship.
It also covers his case and his comeback. This is a truly phenomenal book to read for anyone who is interested in boxing and especially if the person you want to gift is a Muhammad Ali fan, there is no question, this is the gift for you. 
Boxing Jewelry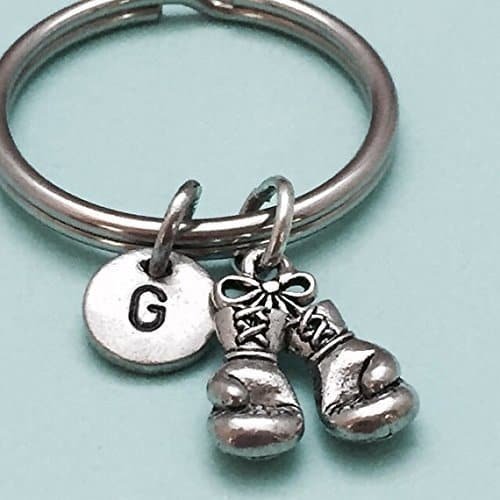 Jewelry is automatically associated with women most of the time, but this is a wrong presumption, as men can wear jewelry, and they can rock it. Cuff-links, necklaces, rings, watches are some of the many options men have in this area.
Jewelry is an amazing gift to give anyone, especially someone who likes wearing it. There are a lot of amazing boxing glove pendants you can get online on amazon and overstock.
There are a few more options. For example, the bronze head gear ring on Etsy, personalized boxing key-rings you can get on either amazon or other sites too.
Jumbo Boxing Gloves
Jumbo gloves are a light-hearted, funny gift for a boxer or a child who is interested in boxing. They are not meant for serious striking or training of any kind and are basically a fun gag gift that will definitely get a laugh out of anyone who tries them.
A lot of brands sell Jumbo boxing gloves, and the Revgear jumbo boxing gloves are particularly popular. They can be used to decorate a gym, office, or even a home.
They are giant-sized, wearable and very detailed up to the laces part as well. Each glove measures about 25"×16". The boxing gear company Title also sells Jumbo decorative boxing gloves, about 26 inches big. They come in three fun colors and are a wonderful gift for someone who loves boxing.
Punch Tracker
The Hysko Punch tracker is this generations' must have boxing gear. Founded by CEO Khalil Zahar, hykso is a fast-growing start-up in the field of wearable technology. The tracker is a wrap that can be worn around the wrist. It has sensors that detect the punch speed and punch count, along with the force put into each punch, and create an over-all measurement of the punch.
This particular wearable device is much more advanced than most available in the market, as it is actually fast enough to measure the super acceleration of a punch. Each device contains two sensors and antennas each to track the wearer's movement. It was built on a refined algorithm that does much more than just count punches.
This invention is truly a wonder, as it can differentiate between what counts as a punch and what does not. The device is also mechanically strong, although it is a small unit. This unit sure started off small but is one of the most desired technological devices in the world of boxing. Gift this to a boxer and it will surely make them very happy.
Collectable boxing figurines
A lot of people collect figurines. It is now a trend, but people who like collectibles will appreciate this gift tenfold. Some people have a genuine passion to collect and it makes them happy. But mainly the reason why people connect figurines is the feeling of connection, if they are fans of a particular boxer, owning a figurine of the same gives them a sense of bonding with their heroes. If your gifter is passionate about boxing, he will most likely appreciate a collectible of his favorite boxer.
Bobpaceboxing is a great site to find figurines of famous boxers like Muhammad Ali, Marciano, Louis, Frank Bruno, etc. Other than this, you can find collectibles in conventional sites like amazon or Etsy. It is better to have a clear idea of who their favorite boxer might be, and if you do not have that information on hand then it is advisable to look at other options.
Desktop Stress Buster
If the person you want to gift works at an office, this is the perfect gift for him. It is very easy to set up on a table, is very affordable, and most important of all, it is a fun yet useful gift.
Displaying it shows his admiration for the sport and is a great way to release stress in a tough work environment. Bad quarterly reports? Pressure from the higher-ups? The commute is annoying? Punch and let go!
When stress goes unreleased, it is brought home. This gift is thoughtful as it helps better the lives of the man and everyone around him. It is a wonder how such a simple gift can accomplish something that great but these are facts.
This gift is not only focused on the office going genre. It can be helpful for boys too, as it teaches them patience and self-control. There are many tabletop punching bags available on many conventional sites, all at great prices. What are you waiting for!
Boxing Art Vinyl Clock
This is a very unique gift, and there is a good chance that your boxing enthusiast has never heard of this concept before. Giving him this gift will definitely put a smile on his face.
These are basically vinyl records cut up to portray different things. In the boxing subsection, there are various options on amazon to choose from. One that particularly caught our eye showed two boxers in a match in the boxing ring, with people cheering them all around.
It has a clock in the middle with the designs of cool mechanical gears. It also has an inspirational message at the bottom that says "keep calm and never give up". The best part is that the message is customization. It can be retained, replaced with another message, or removed completely.
This will be a great gift for anyone who is a boxing fan, and should definitely be one of your top options.
Boxing themed t-shirt
Clothing is generally considered to be the trickiest of all gifts and is usually the most returned/exchanged gift. However, you cannot go wrong with a boxing t-shirt for someone who is passionate about the sport. There were a lot of fun interesting t-shirts we found on amazon.
One was the famous right hook loading, please wait. It is funny, catches others' interest, and comes in cool colors. The other was the eat, sleep, eat box shirt. We have just picked out one or two that we liked, but there are a lot of equally good options on amazon, and if you are considering a t-shirt then head on there right now!
The only thing you have to be careful about is the same, be sure to know the size you boxer enthusiast wears, else they will have to return it, and a gift should be precise and convenient. The last thing it should do is add more work to their plate and become a hassle. Other than that, it is a great idea for a gift and has always received positive reactions.
Boxing Gloves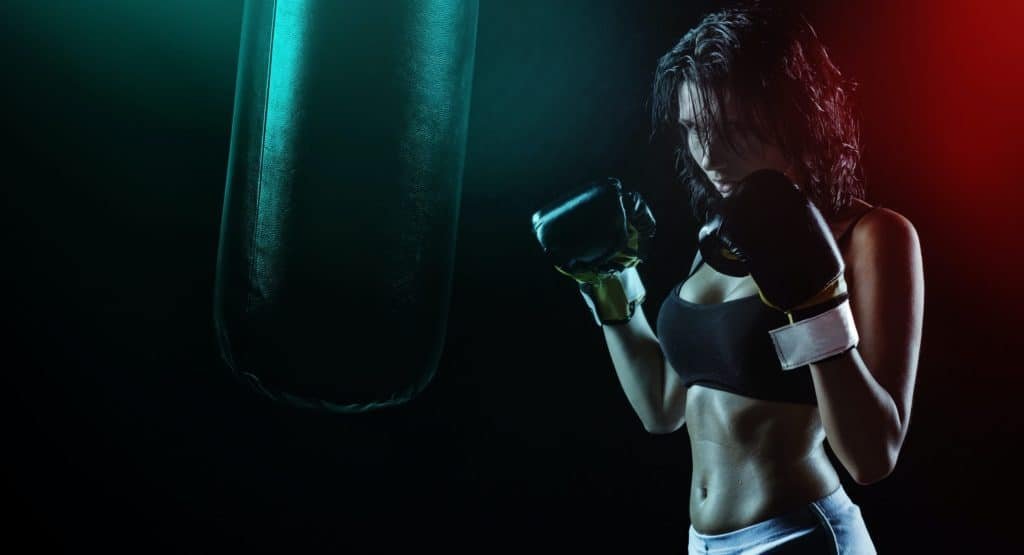 This is a very obvious gift for a boxer, but it works. If your man already has gloves, it still would not hurt to buy him new ones. Boxers are like warriors and their gloves are their armour. Sure, the old armour may be trusty and sturdy but new ones always have the scope of being shinier and more advanced. Plus, they are always exciting to get.
If you know what brand your boxing fan uses and they have released a newer version, that is your ideal gift. If he does not own a pair of gloves yet and uses the ones at the gym he goes to, then this is the perfect gift for sure.
The free gloves that are available at any gym are usually sweaty and old, not to mention shared so there is a good chance he has to wait his turn. Receiving his own gloves will make him really happy. If you are looking for the best gloves to buy him, there are a lot of wonderful blogs and reviews on our site, giving you all the details that you might require. Shop on!
Richard Slone's Boxing Art
Richard T. Slone is a very well-known artist in the boxing community because of his brilliant boxing arts and is widely acknowledged by fans and collectors alike.
He is an award-winning painter known for his entertainment and sports arts. He was a boxing enthusiast who trained under Joe Frazier. After a while, he realized that his love was not for the ring but for the canvas and decided to combine both his interests, and came up with the unique and popular boxing art.
His work is highly respected and if gifted to a boxer, not only will it be a thoughtful gift that shows the level of interest you take in theirs, but it is a great gift that will be cherished for a long time. Art is one of the few things that still stand strong in this age of technology, and this gift will show your appreciation for it. 
Conclusion
We have listed out ten ideas for boxing-themed gifts that we found interesting. We hope you have found your perfect gift here, and if not, good luck!