A lot of people, especially beginners, do not believe that the shoes worn during boxing does not affect the rest of the sport as they are just shoes, but this is not true, and any trainer or a professional boxer is bound to agree with this.
Shoes in boxing are important for a lot of reasons, not only the comfort provided. Beginners especially sideline boxing shoes because they are comparatively more expensive than a regular sports shoe of a good brand. We're here to tell you that this is a totally wrong move, and here's why.
Boxing shoes are specially designed to give you a good grip and prevent any sliding, as it could cause you to lose balance and hence go down in the ring. They are very stable and comfortable at the same time. They allow you to pivot without slipping. There are different weights available in boxing shoes, and each boxer has their own preference.
The main selling point for boxing shoes, however, is that they are typically lightweight compared to other shows regardless of a thick or thin sole, which gives the boxer complete freedom to be extra quick on his/her feet, to combine agility and power.
Lastly, the ankle support is an undeniable plus point in boxing shoes. The jumping, making quick movements, etc. can be dangerous to the ankles and feet, and boxing shoes help with that, providing padding and protection to the ankles. 
Most of the major brands in the boxing industry have their boxing shoe range and there are some unpopular brands with a great range too, however, this article is specific to best boxing shoes for flat feet. As the term speaks for itself, it is pretty easy to determine if you have flat feet, but if you are not sure, or are just curious, here is what it is. 
Having flat feet means having a low or no arch in the feet, which means that their feet may be flat on the ground. The arches are important to the body as they help evenly distribute the body weight across the feet and legs.
The shape of the arch influences how one walks and it needs to be strong and flexible to support the person in all kinds of situations. Many people with flat feet have no symptoms and live a perfectly normal life, but the extent of this can lead to many severe problems as well. If you have flat feet and have had no symptoms all your life, it is still better to a doctor's approval before taking on an extensive sport like boxing.
Top 3 Best Boxing Shoes For Flat Feet Reviewed
Adidas Performance Combat Speed 5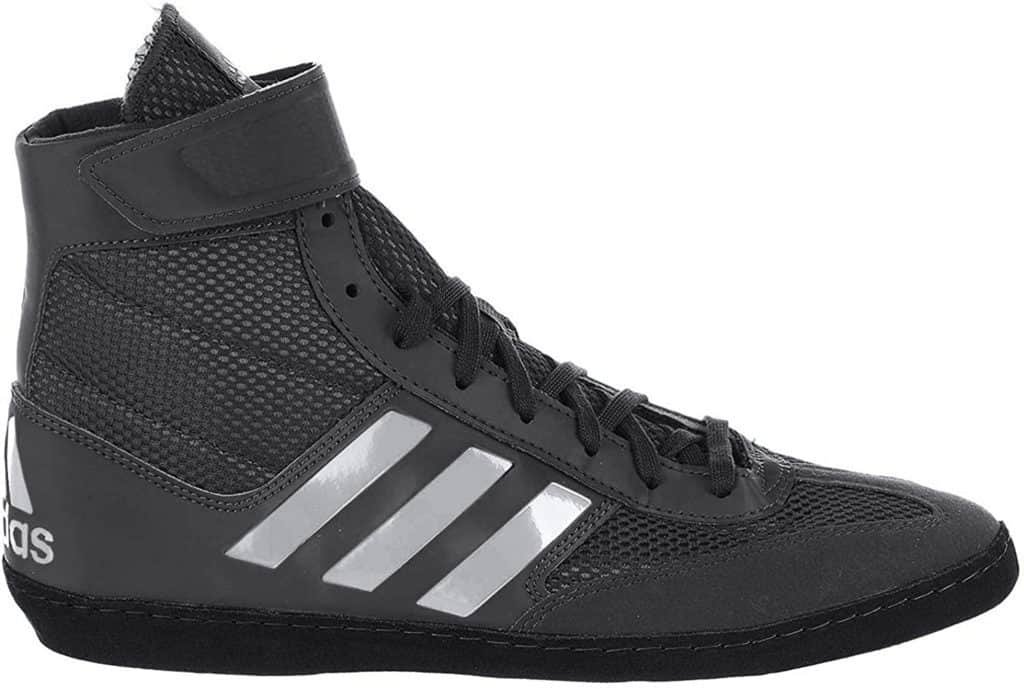 Adidas is a very popular multinational corporation founded in Germany that mainly focuses on sportswear. It is the most popular sportswear company in Europe, and second-most in the world, the first being Nike.
The standard three stripes can be seen commonly when it comes to sportswear, so you already know that the shoes are of world-class quality. The Adidas Performance Combat Speed 5 shoes are arguably known to be the best Adidas Boxing Shoes.
They live up to the expectations that the brand automatically demands. They have superb comfort and style that give the boxers a considerable advantage in the ring as well.
Though we are listing these as boxing shoes, they can be used for wrestling, as well as mat or gym training making the shoes very versatile. The shoes are high-performance shoes, as stated in the name itself. They provide great ankle support and also have mesh uppers for breath-ability.
Though the uppers are a common feature in boxing shoes, they are long-lasting, give the boxer room to move freely while making sure that the ankles are secure. The split suede leather out-soles are of very high quality, making the shoes durable. There are many color and style options in this model.
These shoes are so good looking and classy that many people make the mistake of wearing them casually too and that is risky because that makes the soles lose their grip much faster, making them less durable.
The pros of these shoes are the reliable high quality from a known brand, the exceptional ankle support, the different options to suit individual tastes, the comfortable fit and last but not the least, the mesh uppers.
The only con is that they get sold out very easily and stock is usually hard to find and that they are mid-top shoes and are not suitable for those who prefer high top shoes. These are therefore one of the best options in the market, and should you find a pair in your size, grab them as fast as you can!
Reebok Boxing Boots
Reebok is a footwear company owned by the popular multinational giant Adidas since 2005. Reebok Boxing Boots are known to be of high quality and are definitely in the top five of boxing shoes in any online rankings. They have a synthetic sole with little to no break-in time required. A lot of reviewers said that the shoes felt very light on their feet, and could dodge punches almost effortlessly.
Boxing shoes are very important in terms of boxing equipment, and choosing Reebok Boxing Shoes definitely helps improve your performance, especially as a beginner. A lot of reviewers also felt that wearing these shoes gave them a sense of confidence in the ring that really helped them.
The build of the soles directly affects the ability to balance, pivot and dodge in the ring. The Reebok Boots are comfortable and stable in this regard, they do not angle your feet to the outsides as most shoes do either. The sole is thin, but perfectly so. If the sole is too thick it makes the boxers feel uncomfortable and off-balance, and if it is too thin then it may tire the boxer out after continuous practice.
They have a raised heel which helps the boxer build maximum power for their punches. Reebok Shoes are made to provide maximum protection to the ankles. Reebok has a range of high-tops as well as low-tops, as boxers tend to have different preferences.
Quality is a very important factor to consider while buying boxing shoes, since they are generally more on the expensive side, so it is better to get a pair that is durable and will serve its purpose well. Reebok shoes are known to be of superb quality, and many reviewers have expressed satisfaction when it comes to the durability of these particular boxing boots.
The pros of buying these shoes are they give the boxer support and balance, even if they have larger feet than most. They are sturdy and lightweight, they provide good ankle protection, and they are very comfortable. They are definitely a good bet and should be in one of your top options.
Ringside Diablo Wrestling Boxing Shoes
Ringside has been manufacturing boxing gear for over thirty years and is known for its affordable high-quality products. The brand is known to provide durable, stylish, versatile and comfortable options in every lane of boxing gear, and the boxing shoes are no exception. This is a roomy shoe, while people with normal or wide feet prefer it to be this way, people with very narrow feet need to be sure that these shoes are comfortable for them.
Most people who face this problem invest in an insole, as it not only makes the fit of the shoe tighter but also helps give support for the arch if needed. These boxing shoes are known to be exceptionally lightweight and feel like a second skin on your feet, which helps boxers train for longer periods. The material used in the construction of these shoes is high-quality synthetic leather, giving them a shiny look. There are mesh panels on the shoes that help improve breathability. This is a good option for people to look for good boxing shoes in a lower price range. The ankle support might not be as great as some of the other options, nor the insole, nevertheless, these shoes are comfortable, adequately durable and stylish. They serve their purpose well and should be considered, especially for beginners.
Here are some things to consider while looking for the best boxing shoes for flat feet:
Breathability
Good boxing shoes are breathable, that is, they allow all the unnecessary moisture and even heat to escape. It is best to go for shoes that have a mesh which helps with the breath-ability. This also helps dry out the shoe quicker, so if you have sweaty feet the shoe won't smell after a while. 
Weight
As discussed earlier, boxing shoes are fundamentally lightweight compared to other shoes, which is what sets them apart in the first place. The good lightweight options are made of leather or suede.
Support
Boxing shoes are considered a necessity because they provide protection to the ankles, which is a priority in a sport like boxing where the athlete needs to be quick on his/her feet. Boxing boots come in three heights, high top, mid-top, and low top. High tops usually come up to mid-calf and offer the most protection out of the three options.
Mid tops come up to about two to three inches above the ankles. They are the most popular boxing boots in the market because they are not restricting like some people find high tops and they offer more protection than the low tops. Low tops are similar to running shoes, they come till below the ankle. These provide less protection compared to high or mid-tops and are hence not used for serious sparring.  
Comfort and Width
Boxing shoes are generally known to be comfortable, however, this varies from person to person. It is best to test out the shoes before buying them, especially if it is your first-time buying boxing shoes. Sizes change according to brands slightly, and it will take a while to find your perfect fit. Ideally, the shoes should fit a little tight but still have room for good mobility and not cause any discomfort or traction leading to blisters.
Sole
There are different textures and sole thickness available in the market and it may get a little confusing. If the texture is smooth, it allows god pivoting which is very important in boxing but if it is not then it has a better grip. So, it is up to you to decide which you would rather prefer based on your boxing strategy.
The sole height mainly depends on the shape of the arch of your foot. If you have flat feet, a flat shoe with the least cushion in the heel area may be better. Thinner soles are not usually preferred because they tire your feet faster and start hurting after a long time of continuous use, but they give more grip.
Conclusion
These are ranked according to various reviews found online, including Amazon reviews. However, there are many more options available in the market. Hope this was helpful in your search for boxing shoes, good luck!