Boxing is a sport rich in historical significance, earliest traces dating all the way back to 3000 BC in Egypt. It was introduced to the ancient Olympic games by the Greeks around 7th century BC, where leather thongs were used for protecting hands and forearms.
That was the earliest version of a glove, which later evolved to a cestus, basically a glove with studded metal in Rome. This led to gladiator brutality, and finally, boxing was lost for a long time before resurfacing in England in 1880. Half the story of the evolution of boxing revolves around the gloves, and that's how important choosing the right gloves for one's particular needs is.
There are many kinds of gloves, and it can be very confusing for a beginner. Fear not, we are here to help you in finding the best boxing gloves under 100$.
Top 8 best boxing gloves under $100 Reviewed
Boon sport leather training gloves
Boon Sport Leather Training Gloves are highly underrated because they are Muay Thai gloves. Muay Thai gloves are generally considered to be of cheap and perishable quality, and while some gloves may hold up to that accusation, this is to convince you as to why these particular gloves are far from it.
These are hand-stitched cowhide leather gloves, giving them the durability to guarantee years of usage in spite of harsh treatment, wear and tear, etc. The foam layer is 2 inches thick and absorbs shock well, thus giving your hands excellent protection.
Additionally, the cuffs are also long and padded, protecting your wrists from injury. It has a wide hook and loop closure, giving the user comfort and flexibility in wrist movements. 
After doing a fair amount of research, Boon Sport leather training gloves seemed like the best choice, considering gloves that are priced low are usually of bad quality. The positive reviews left by users are a clear indication of customer satisfaction.
They may be a bit tight on your hand the first time, but the break-in period is negligible. If affordable training gloves are your priority, then look no more, these are just for you!
Twins Special BGVL-3 Training Gloves
Twins is a renowned equipment manufacturer in Thailand, and the Twins Special BGVL – 3 Training Gloves are among their top profitable products. Made with high-quality genuine leather, these gloves are reviewed to be extremely long-lasting. They have foam padding, protecting the knuckle area.
They have padded cuffs for extra protection, and a velcro strap for easy use. A respectable number of reviewers commented on the Craftsmanship, claiming it to be "Top Notch". The only drawback was the break-in time, and nearly every glove, just like a shoe, has a break-in period. If you are looking for sturdy, long-lasting training gloves, this is an option that definitely should not be overlooked.
Top King Super Star Air Boxing Gloves
Top King makes gloves for all purposes, and their SuperStar series was a huge hit. Apart from all the amazing qualities, it has attracted a lot of attention due to the bold graphics on each glove, that are long-lasting and don't fade after just a few uses.
The gloves' inner foam padding is multi-layered, making it highly shock absorbent. The gloves were made for Muay Thai, hence foams are strategically loaded in the upper hand and wrist area. If these are used for boxing instead, there will be better protection in the knuckles, fingers, and a few other regions compared to boxing gloves.
The gloves are interestingly lightweight, despite being a little bulky. The gloves are also made of pure cow leather, thus they are very durable. Another added benefit is their climacool technology to keep the hands cool and dry. This made a major difference in sales and pushed high profits. 
The only negative feedback was that there was a break-in time, meaning it takes some time for your hands to get used to the gloves. Just a reminder, size in this series is very specific, so make sure that you have your size right. These are very sturdy, reliable gloves that last. Make sure you consider this gem!
Venum Elite Boxing Gloves
Venum has four series of gloves, and Elite is commonly known as the best of the series. If you search on amazon, under each Venom glove, there is a comparison chart of all the features the gloves have, and Elite clearly stands out.
This is curious because the Elite series is actually cheaper than the absolute series. Venum Elite gloves provide surprisingly good protection, despite being arguably lightweight. They are made of skintex leather, which more or less refers to synthetic leather manufactured in japan. 
Despite not being original leather, these are very durable and left users highly satisfied. They have heat regulating mesh panels inside, which is rare to find in boxing gloves. With triple density foam, these offer maximum protection to the hand, including the thumb.
They also have long cuffs for wrist support and a velcro system for easy maintenance. The bonus is just how cool these gloves look, with its embossed venom logo. Do give them a chance!
Fairtex BGV1 Sparring Gloves
Fairtex has been a popular name in the boxing glove industry for well over two decades and has always been known for its supreme quality and affordable rates. Fairtex BGV1 Sparring Gloves are not an exception to their reputation, with premium quality leather, hand-stitched in Thailand to ensure durability.
Good quality gloves can be differentiated from cheap ones very easily by someone with experience, and even seasoned fighters have recognized these gloves.
If you are a member of an MMA, Kickboxing, or Muay Thai academy, there is a chance you will find a pair of these gloves there. They have a secure hook and loop closure, and while they have a lot of padding, they are still very comfortable and give your wrists adequate space.
The only negative review that could be found was that the gloves are tight on bigger hands, but Fairtex has addressed this issue and released larger sizes too. In conclusion, these gloves are a worthy competition to expensive gloves, considering even the larger sizes are very affordable. They are strong, sturdy, will serve your purpose, and will not disappoint.
Authentic RDX Leather Gel Training Gloves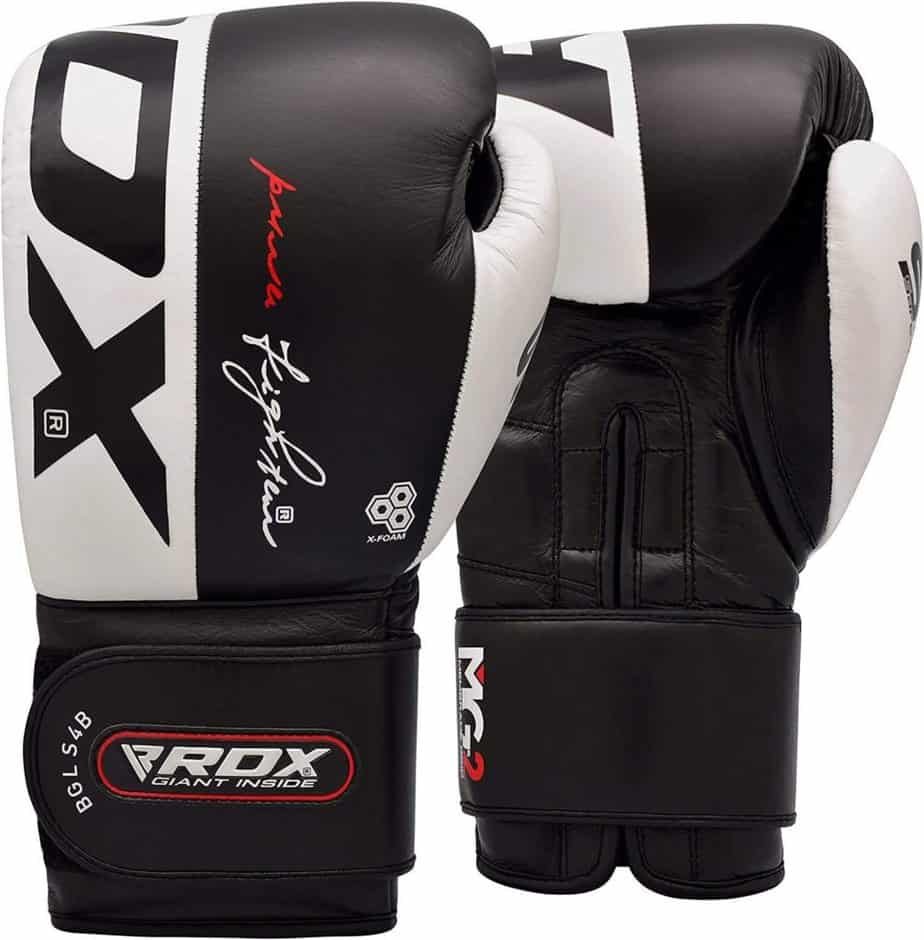 Considering the fact that we are discussing gloves under a $100, RDX gloves have shockingly low prices, for the quality they provide. Authentic RDX Leather Gel Training Gloves are among their highest priced options, and the largest size is still not more than 70$.
This deal is definitely a steal because these gloves are made of genuine cowhide leather and have thick protection gel made of three layers, to ensure more than sufficient protection to the hands. The hook and loop closure allows you to put on or remove the gloves easily, and the extra wrap around wrist strap holds the glove in a sturdy, yet comfortable position. 
The general review suggests people liked the gloves, though a fleeting minority complained that they weren't as durable as they expected. Others said that they found them fairly durable and that they were satisfied with the buy because there wasn't a break-in period.
So, this much can be said for sure, you definitely get the product you paid for, and while they may not be the best on the market, they are certainly one of the top options. 
Venum 2.0 Challenger Boxing Gloves
Venum as a brand was particularly popular among Muay Thai fighters, but it has caught the attention of MMA fighters and boxers alike over the past few years. In any number of searches made for good boxing gloves, Venum Elite or Venum Challenger series comes up at least once, and for good reason too.
Venum usually manufactures gloves using synthetic leather, and this particular glove is made from Pu leather, which is a type of synthetic leather. 
People generally tend to be skeptical about considering gloves not made of 100%, but Venum puts these doubts to rest. The leather is specially designed to be durable and feels good. These gloves provide undeniable protection, loaded with triple density foam.
They are comfortable to put on because of the velcro strap. However, this pair of gloves was not designed for people with big hands, and if you do have larger hands than normal, this option is not recommended. For normal to small hands however, these gloves are a perfect fit and leave customers satisfied.
Everlast Pro Style Training Gloves
Everlast Pro Style Training Gloves have C4 foam technology, which provides cushion support while maximizing your grip. They are crafted perfectly to the shape of the thumb and fist, thus giving the wearer added comfort.
The wrists are padded on both sides, providing additional protection, and the easy to adjust velcro strap is a bonus. It has a lot of positive reviews on Amazon. While some people found it slightly uncomfortable at first and didn't appreciate the gloves as much, the consensus was that the gloves are durable, provide good protection, and are of adequate quality
Things to consider when looking for the best boxing gloves under $100
Size
There are a variety of sizes (measured in ounces or oz), and knowing your glove size is vital to experience maximum comfort and performance. Interestingly, your glove size not only depends on your hand size but also your height and weight.
Most glove manufacturing companies on amazon provide a size chart based on weight, but it is always better to be sure. Hence, my advice is trial and error, but if you are shopping online, be sure to go through the size chart very carefully!
Types based on the purpose
Training Gloves are essentially your beginner gloves, used generally for mitt and bag practice. Sparring Gloves are usually at least 16 oz and used for practicing technique in the ring. At last, there are Competition Gloves, and the title is self- explanatory.
Laces and Velcro
While Laces are the more secure option, a second person is required to help secure the Laces, whereas Velcros are easy to put on, hence more suitable for training, etc.
Padding
There are different kinds of padding used in gloves, like horsehair, open foam, closed foam, gel, etc. Every boxer has a preference, and it is up to you to figure out your own. Good luck!
Leather and vinyl
While Leather is the best option considering durability, protection, etc, it is expensive. Vinyl, on the other hand, is considerably cheaper, and some options even close second leather. These days synthetic leather is the most used material, and it is economically friendly and has the qualities of leather that give the glove its unique durability.
Conclusion
This list has options for every purpose, and mainly, all of them are under your price range. Wands may choose their wizards in Harry Potter, but you have to choose your glove, and I hope this read helped narrow down your search. I wish you good luck and happy boxing!