Are you just starting out with boxing and are looking for your Best Boxing Gloves For Beginners? Well, you're in the best place!
Firstly, it is great that you have decided to try boxing, as it is so much more than the violent sport that the clueless public have made it out to be.
Boxing helps a person build their confidence, teaches you to have control over your adrenaline rush and remain calm in situations where you want to flee, teaches patience, humility, honor, helps you deal with pain and it is a great sport to maintain your athletic fitness.
Secondly, it is extremely important to choose the right gear for this sport. However great, it is, after all, a dangerous sport. Without the right kind of gloves, the chances of one getting hurt increase at least threefold.
best gloves for beginners Reviewed
Venum Elite Boxing Gloves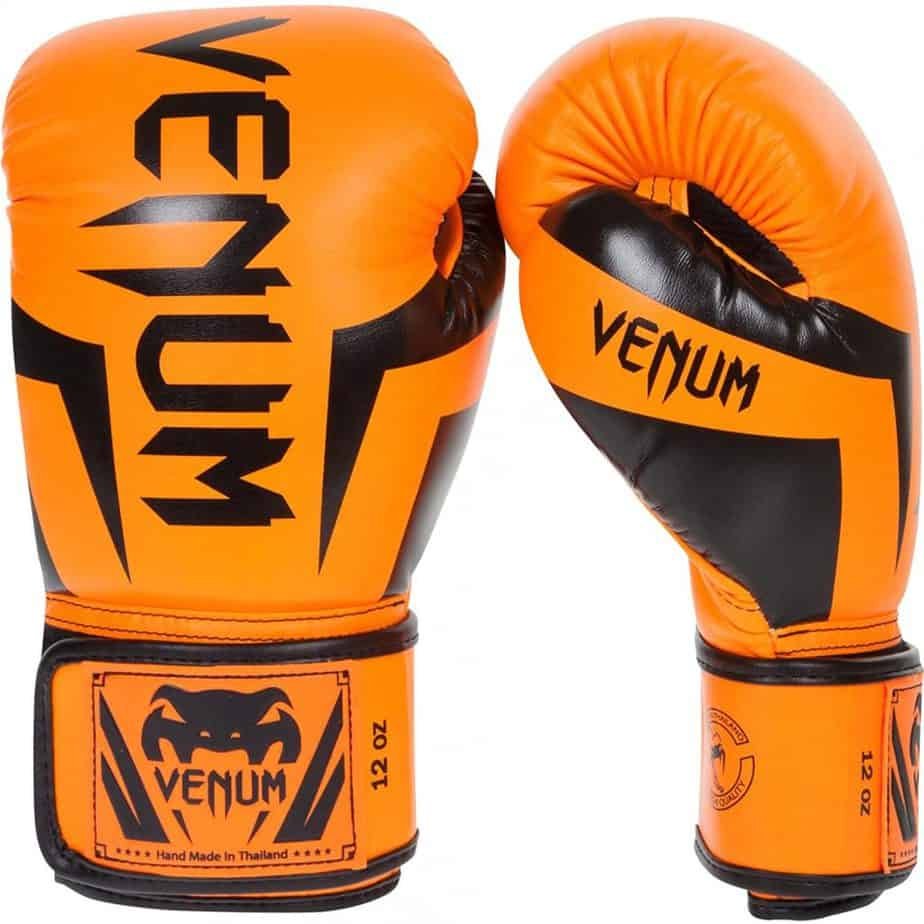 Venum has made a big name for itself in the glove market now, and for good reason. They make incredible gloves and sell them at unbelievable prices. The elite gloves are a mid-range series, designed for casual training.
They are not designed for professional fights or heavy sparring. However, the gloves offer ample protection to your hands. They have extra support near the wrists and also have an attached thumb to protect it from injury.
Though the gloves are not made from real leather, they are made of a particular kind of synthetic leather called skin tex leather that is durable and holds well through wear and tear. These gloves fit well and do not have a big break-in period.
The cuffs are longer, providing extra support to the wrists. The velcro is wide and is easy to put on. They are slightly bigger gloves so it is imminent to check your size and fit before buying the gloves.
Usually, during fights, the palm area of the hand tends to get very hot and sweaty. This is countered by a ventilating mesh covering on the front.
The gloves are made to take the shape of your hand and do not fail to live up to it. They are really good for bag and mitt training. One thing the customers did not like was that there is some extra padding in the palm area.
This is because the glove is also targeted at Muay Thai fighters, and they need extra padding in the palms. Very few expressed this concern, and most of the users were happy with the extra padding. It may slow you down a little but it gives great protection, hence it is very useful to a beginner.
All features aside, beginners are also particular about how their gloves look, and the Elites definitely lead in that aspect, as they are very good-looking gloves, and the embossed Venum logo makes them cool. Overall, the Venum Elites are one of the best gloves for beginners and are worth what you pay. 
RDX F7 Ego Boxing Gloves
RDX is a new brand, yet it has become popular over the recent years because of the wide range of boxing gear that it supplies. The RDX Ego series is very popular among boxing gloves and is affordable too. The gloves provide excellent padding. The padding is made out of not one, but three different kinds of foam of different densities each that ensure that your hand is well protected.
There is an added gel layer that helps the glove fit in shape with your hand and to absorb shock evenly. The gloves come with the common hook and loop closure, and a velcro strap is used to secure that closure. The long strap used ensures that the glove stays in place and has left many customers satisfied. It has been reported that the gloves can feel a little tight in the beginning, but a break-in period is common in most gloves.
As you keep using them, they become very comfortable and do not stretch with use. The closure also helps with the fit, making the gloves perfect to use for extended periods of time. The gloves are very affordable, which is a bonus for beginners who are still testing waters.
Most of the customers who bought the gloves were very satisfied, as the gloves provide much more than what you pay for. These gloves are notably durable, due to the hand-sewn Maya hide leather. The different fabrics sewn in the padding and lining of the glove define the gloves and make them stand out.
Apart from that, a material that helps in releasing the heat from the gloves is also added to keep your palms cool and dry, which helps you avoid basic side effects of not using ventilated gloves like rashes and blisters. The best part about these gloves is that they can be used for bag training, sparring, mitt exercises and many more.
These gloves are one of the most advanced gloves on the market due to the extensive research behind them and are more durable than a lot of expensive options. Overall, these gloves are amazing due to their intricate detail work, durability, shock absorption, fit and affordability and are definitely recommended for beginners.
Sanabul Essential GEL Boxing Gloves
Sanabul is a popular brand that has been around for a commendable period and has been endorsed by fighters on multiple occasions, and it is obvious why. People trust Sanabul and buy their gear without too many questions because they are known to provide top quality products, be it gloves or shin guards. Sanabul uses gel foam, which is very good in terms of fit and shock absorption.
The padding is concentrated to protect not only your hands but also your wrists. The padding is also relatively long-lasting, though it may take some time to break in. It provides exceptional protection to the hands overall, which is especially important for a beginner as it is well known that maximum injury is sustained by beginners who are learning how to block, etc.
The gel technology works for all training purposes, be it with a heavy bag, a speed bag or even sparring. In customer reviews, we noticed that people have particularly commented on the fit of the gloves, as the gloves justify the phrase "fit like a glove".
As long as you have the right size, the gloves fit perfectly and are not on the bigger side like a lot of other gloves. People think have a little space inside the glove can do no harm, but they are far from the truth.
When there is space in gloves, the heat and sweat often lead to chafing and blisters, hindering the training process. These gloves address this problem and take the shape of your hand.
The gloves are made of really good material that makes them durable and comfortable. They have the hook and loop closure, which is popular and easy to maintain. Additionally, the gloves also have mesh panels in the palms to increase breathability. The outer material used is blended leather and not pure leather, which can be a concerning factor to some people, but rest assured, the material used is really good.
Pure leather requires constant care and can be quite troublesome. Blended leather requires as much care as synthetic leather, which is barely any. You will need to leave them to dry after every use to make sure that the inside does not retain the sweat. You will also have to check the velcro to build up every now and then to ensure that the velcro retains its strength.
This is a great option for a beginner, as well as an experienced boxer. The gloves are affordable, comfortable, breathable, constructed well, easy to manage and provide good protection. The only drawbacks are that the padding may not be enough for heavy hitters, and the stitching may be a little faulty. Other than this, these gloves are perfect. If you feel like these are the gloves for you, then go on and get them now!
Things to Consider When Choosing best boxing gloves for beginners
Size
In order to find gloves that fit well, you need to determine the exact size that you require. Sizes in gloves are measured in terms of ounces(oz), and the size depends not only on the size of the hand but also on the height and weight of the person. Be careful, and look up a clear size chart online. Every company also has their own size charts, so be sure to compare and make sure you have the right size. Many people think buying bigger gloves is better because it has more space inside, but this mistake could cost you more than just a match, and lead to injury. A glove needs to be perfectly secure and in position at all times, so avoid chances.
Type of glove
There are different kinds of boxing gloves based on purpose. For beginners, training or bag gloves work out well, and the difference between the two is very slight. Training gloves can be used for other activities like sparring and bag work as well, or for other sports like Muay Thai. Bag gloves, on the other hand, are fit for training at home with a bag but do not hold up well for sparring.
Closure
Laces are the more traditional closure option, but are not very practical, especially for beginners who would want to train/practice by themselves as laces are hard to tie by yourself and a second person is required. Velcros are almost as effective as laces and are very easy to use, and are hence the more preferred option.
Material
Gloves are usually made out of either vinyl or leather. Gloves made from leather are more expensive, but worth the price because leather provides long term durability. Vinyl gloves are considerably cheaper, but also because they are of significantly low quality. Vinyl is a decent option for a beginner but as you progress in the sport it is ht is highly recommended to invest in a leather glove.
Conclusion
We know that one of the most important aspects that beginners consider before buying gloves is the price. Taking this into consideration, we have only listed out the affordable options. There are many boxing gloves for beginners, and some better than the ones mentioned, but they are on a higher price range.
Starting with boxing does not need to be expensive. All that you really need is a good pair of gloves, and a punching bag to practice with and improve your defense. Ideally, it would be recommended to buy your first gloves in a proper outlet where you can try on sizes to be exactly sure of your size and we know how important choosing the right size is.
We hope you have everything you need including some great suggestions to start your boxing career, or just to blow off some steam. Good luck, and may the force be with you!