Boxing as a sport and as a workout activity is great to take up. But here's the thing: if you're planning on training seriously to be able to enter the ring or to compete, you need to vigorously work on your skills. This requires a lot of dedication and training. While strength is an important skill to possess, what sets you apart as an opponent will be your speed in delivering your punches. This will get you far in pursuing the sport.
The best and most effective way to improve your skill and to develop the right way of the art is to possess the right kind of gear. This will help you train comfortably and prepare you for what is to come when you face your opponent. The key gear when trying to improve your speed is a double end bag, and in this article we have reviewed the best double end bag for boxers Practicing on this will help you acquire the skill that you're looking for.
Top 8 Best Double End Bag Reviewed
Wesing Double End Striking Bag
The ball is made up of two types of materials: there is PU leather that gives it durability makes it resistant to cracks, and there is micro fiber leather that more or less does the same work but a little more intensely, it makes it anti-wrinkle as well. The design is completely inflatable and the lining of the bag has been moulded with latex material so that there is not much air leak. the ball is 7 inches giving it a middle ground for users who are both professionals and amateurs.
The cord is plastic and gives the right amount of tension to the bag so that there is a good movement. It works effectively if you are looking to improve your strike speed or your reaction speed, helps improve accuracy and several other abilities as well.
Toco Freido Double End Bag With Boxing Reflex Ball
The ball is filled with thickened rubber and is anti-leakage of air. It is made of PU leather and is stitched doubly and has triangle seams for a tight fit. The design is of a gas nozzle that is tight and is an inflatable product. The ball is suitable for everyday training or for MMA and helps improve your endurance, reaction, agility and accuracy.
The light body allows for more movement and helps improve your reflexes. It comes as a kit with added accessories of an air pump, two boxing reflex balls and a headband. The quality is top-notch and comes with a warranty of a lifetime. It is easy to install as well.
Opliy Double End Ball
The design is anti-leakage and anti-crinkle. It has a thickened inner bladder and is made up of two quality textiles, PU leather is one of them. The kit for the ball comes with a pump and the required elements for installing the ball. The ball can easily be deflated when not needed.
The cord is of elastic quality and gives a strong tension. The length of the cord can be easily adjusted. The ball is about 7 inches and gives good rebound, which helps you work on your reaction speed. It is suitable for daily training or fighting and for MMA and will help improve your endurance, agility, reaction and accuracy. It is eligible for a replacement if you are dissatisfied with the product.
Ringside Leather Boxing Double End Bag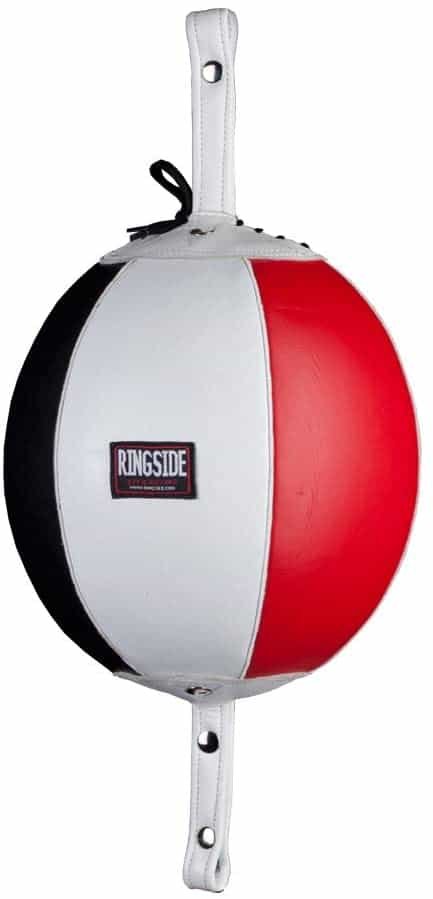 The construction of the bag is of durable, high-quality leather. It is double stitched and has a thickened inner bladder that is good and suitable for a good rebound. The top and the bottom loops and long and are triple enforced. The product also includes the two cables/cords for installation.
It is a simple design, non-inflatable, and is of at least 7 inches. The small size allows for heavy movement, and the ball is suitable for everyday training. It helps improve your hand-eye coordination and helps improve your speed of reaction, your agility, accuracy and your endurance. The price is easily affordable and value worthy, and is varied depending upon the size that you choose.
Maxx Mma Double End Ball
The ball comes as a kit along with an air pump, and two cords for installation. The spring is heavy-duty and bounces back harder. It is designed to use for several kinds of punching, and for working on your reflex. It helps with improving accuracy, timing and speed. The most simple design with the most features for good use. The ball is sized slightly on the smaller size and gives a good rebound. The cords of the ball provide medium or so tension with enough movement.
The ball comes at a cheap price and can easily be purchased online. It is a good product, to begin with for beginners especially. The ball comes equipped with an air pump as well, that you can use to inflate whenever needed since it is an inflatable design.
RDX Double End Speed Ball – Maya Hide Leather Version
The ball consists of two type material which includes Maya Hide leather. The two textile is on the inside and makes the ball more durable and prevents wrinkles and crinkles. It can bear vigorous training and is suitable for MMA training, Muay Thai and other such boxing and kickboxing. It helps improve rhythm, speed, timing and endurance along with accuracy.
The cord is heavy-duty nylon and is stretchable and can be adjusted depending on the required height. The flexible strings allow great movement and are tough to endure heavy punching. The ball comes along with a few other elements for mounting. The base of the strings is stable and have in them a V-gravity technology. It has a professional design which accommodates to almost any style of boxing.
Contender Fight Sports Synthetic Leather Boxing Double End Bag
The ball is made up of synthetic leather which makes the bag heavily durable. The ball is of an average size which is 9 inches in diameter and is perfect for beginners. The money that you will invest in it is not so much either. The straps are double stitched and the seams are reinforced and double stitched. The inside is of thickened rubber.
The ball comes with two cords and is made up of rubber. The durability factor outweighs the money you will have to invest in purchasing it. The simple design is perfect for a beginner and helps improve movements and agility. The ball is value worthy. It supports everyday training and light kickboxing. But if you are more advanced, then this product may not be for you.
Title Boxing Vintage Leather Double End Bag
The construction of the ball is authentic and vintage leather that is top-grain. The seams are all leather welted and are all triple-reinforced. The hanging loops are reinforced as well and are both double stitched. The ball comes with two cords that provide the ball with a medium tension. The butyl rubber bladder of the ball allows for rapid rebounds.
The material of the double end bag makes it more durable and will help to last long. The price of the bag is more than affordable and comes cheaper than most other bags. It helps with training in boxing and kickboxing. It can bear heavy wear and can be used for long. The size of the ball is average and helps with improving your speed skills along with your accuracy and reaction speed. It is still not the best of the best products out there, but if you are looking for something a little more stylish whilst helpful, then this product works.
Cleto Reyes Double-Double End Bag for Boxing Training
This Mexican double bag is for more diverse use. It helps with improving your precision and your coordination by allowing you to practice more kinds of punches such as uppercuts and hooks. The bag is made up of premium leather and has a heavy nylon lining and is properly made.
This helps give the ball higher durability. The cords on both the ends are made of elastic and have to be mounted to the floor and the ceiling. However, this product does not come equipped along with the cords, you will have to purchase the cords separately for this product. It does, however, include an extra bladder. It is more on the expensive side, but if you are looking to invest heavily in a double-end bag, then you would not mind buying this bag.
Types of Best Double End Bags
When looking at the kind of model of a double end bag, you will be able to spot two kinds on the market: a single bag and a Mexican bag. The single bag is the one that is most commonly used. These bags come in different sizes and are connected to the floor and the ceiling by two cords tied at the ends.
The smaller the size, the faster the movement of the bag. With Mexican bags, it is essentially a peanut-shaped bag that is two single bags conjoined as one. It is installed in the same way that a single bag is. The peculiar design is for the benefit of practicing different kinds of punches.
Other than these, you have the kinds of double end bags for various purposes. Beginners have the benefit of using the 'all-around' bag that is an average bag and can be used to build a foundation in timing, defence and rhythm.
The kind of cords that you use in combination with the kind of a size of the bag will determine what kind of skill you're working on. For instance, a 6 or so inch bag with high tension cords will allow you to work on your offence whereas your defense will require a different kind of bag set-up.
Lastly, there is what is called a 'Sniper Bag' that is small-sized and has light tension cords that allow to it move around a lot. This will help you work on your speed and accuracy to a great extent and can also help you in improving your defence by training to dodge the bag.
Things to Consider when Buying a Double End Bag as A Boxer
The smaller the bag, the faster it moves. So, if you are a beginner, you will need to first work on your skills before you start solely looking at speed. Which is why it will be better if you were to purchase a bigger bag. If you are someone with comparatively advanced skills in kickboxing or boxing, then feel free to go for the smaller bags.
Look at the size (diameter) of the bag that you are purchasing to know the kind of size you are going for. When buying online, make sure to properly go through the details, especially when it comes to the size. If you are purchasing the bag at a store, get a good look and see if it is the perfect fit for you. That said, online shopping will give you access to more variable sizes of bags.
Numerically, 9 inches will be the largest that the bag will be available in, and is perfectly suitable for beginners. The bags of 8, 7 or even 6 inches can be taken up by those who are a bit more advanced.
Now, you know what kind and size of a double end bag to look for. These are our recommendations that you can take a look at and see if any of them fits into your needs and preference.
Conclusion
After receiving the product, you will have to install it yourself. But not to worry, it is not a complicated process at all. You have to secure the cords of the bag on the top and the bottom in order to mount it. That is all that you would need to do.
The training with the bag would involve you moving around it to practice your various moves and punches as well as improving your footwork. You can begin with a bigger bag, and move your way upwards or rather downwards on the diameter scale. Once you have developed enough speed you can install the smaller bags for faster-paced movement.