Exercise is important to maintain a healthy lifestyle. This is general knowledge. What we often fail to consider is that exercise needs to be a part of a child's life right from their early years, so as to integrate it into their lives. There are many forms of exercise, and installing a punching bag in your kid's room or the basement is a great way to keep them occupied while also making exercising fun.
A lot of parents are skeptical about children being interested in boxing at an early age as they feel it promotes violence, but rest assured, it is all speculation and not facts.
Studies have been conducted and it was declared that boxing at an early age does not lead to violence, and this is a fact. It is, however, important to talk to the kids and make sure they understand that using a punching bag to cool down is very different from replacing it with a person. So to help you, we have listed down the best punching bag for kids.
Best Best Punching Bag For Kids Reviewed
Century Kid Kick Wavemaster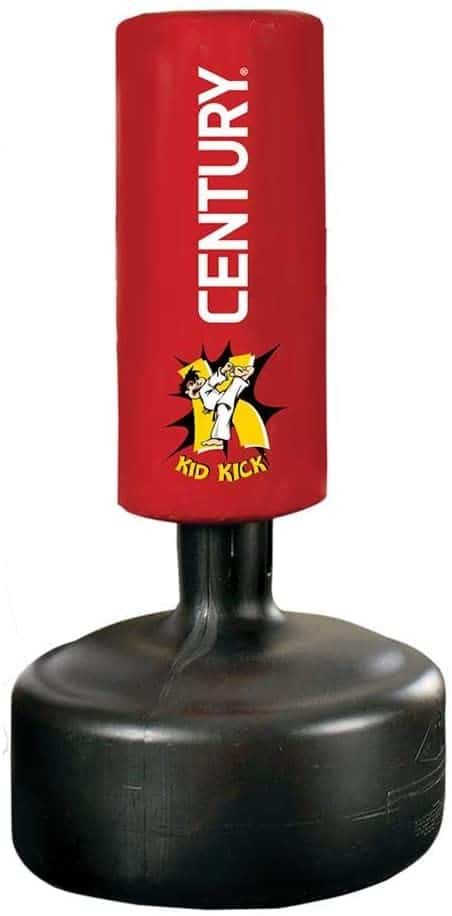 Century is one of the biggest brands in the industry, so it is obvious that the best punching bag would be of their brand. The kid kick Wavemaster was built to endure, and can thus withstand any amount of force that your child can muster. As it is a freestanding bag, it can be punched as well as kicking and can be used as practice for a lot of martial arts.
The base can be filled with water to add a little extra weight so that the bag can bounce back easily. The punching bag is made with nylon, with a layer of foam on the inside to absorb shock and also so that it does not hurt the kid to kick or punch it. The height of the bag can be changed to accommodate your kid, thus allowing them to use the bag even as they grow. It is fairly easy to set up, the base needs to be filled with either water or sand.
It is, however, very heavy and weighs 170 pounds, but can be moved around with much effort because of its round base. The only disadvantage is that if the kid is into kickboxing or is a very hard hitter, it was not very helpful because the foam interior got too soft for them. This complaint was made by very few parents, and most said that it was the best punching bag they had ever bought.
Liberty Imports Kids Adjustable Boxing Bag with Gloves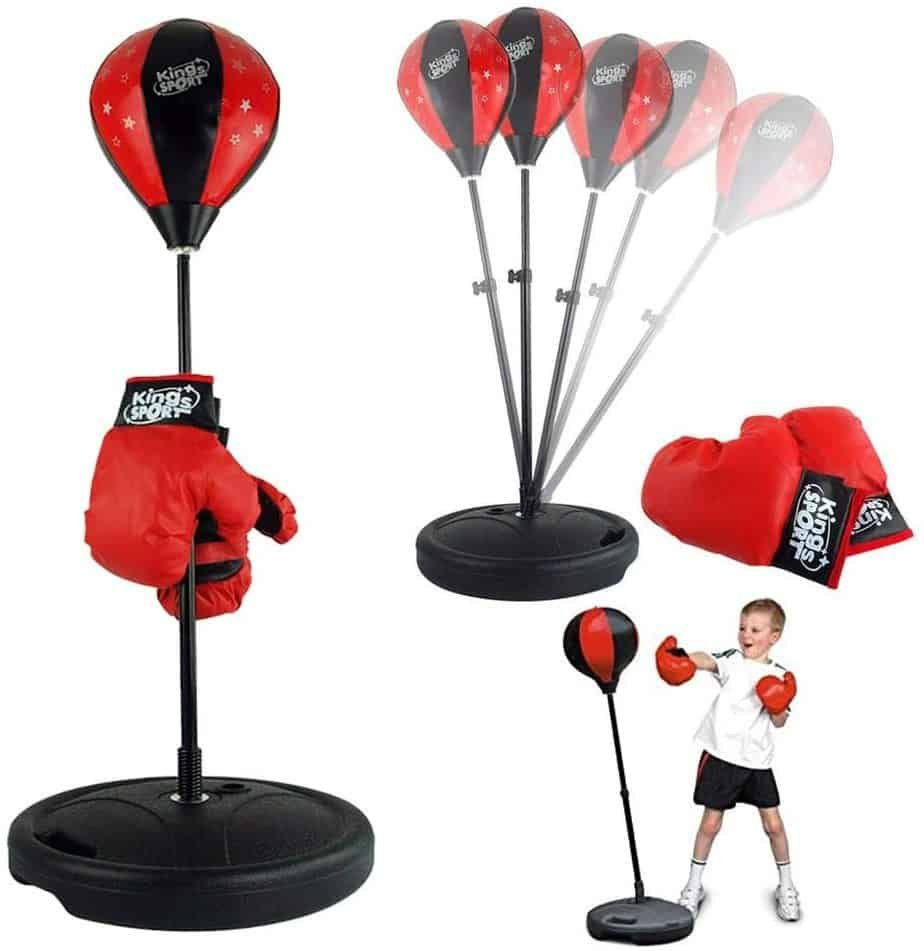 This is a very popular punching bag and is pretty high on this list even though it has some mixed reviews. The major problem was that the users expected a lot from the set, and while this is an excellent set, it was probably over hyped and could not live up to it. It has some great features, and users who bought this sheerly based on what is has to offer were very satisfied.
Let us look at some of these features. The punching bag is made from durable material and has the potential to last a long time with proper maintenance. This is a fairly cheaper punching bag because it is an inflatable one. If stored in a dry indoor place, it can hold up a long time. It has surprisingly low recoil time, and the younger kids enjoy this immensely, and it helps improve their defense technique as well. This set also comes with gloves, and together the two items help build the child's strength, speed and agility. It is priced very low and is an ideal first bag for your kid.
Younger kids may only want a bag because it is cool and will lose interest very whims, and this bag will help fulfill their whims without giving a second thought about the price. If it turns out that their interest does not waver, then perhaps you can move them on to a higher quality bag. The only drawback is the quality. Also, if speed and quick movements are your priority then this is your bag, but if strength is what you want in a bag then you may want to consider other punching bags.
Century Lil' Dragon Wavemaster
The Century Lil Dragon Wavemaster punching bag is one of the most publicly acknowledged kid's bags in the world. The fun, engaging design catches the interest of the younger kids and makes it less sport and more game for them. The material is excellent, and id very durable, allowing the child to punch, kick, learn strategies and techniques without any discomfort. It has brilliant reviews, and hardly any complaints could be spotted. Much like the kid kick Wavemaster, this punching bag's height can also be adjusted.
In fact, the Lil' Dragon Wavemaster and the kid kick Wavemaster have a lot of similar features and are made of similar quality as well. A choice between the two is usually made based on personal preferences and word of mouth. Its outer covering is made of good quality nylon and is very good for younger kids as it is easy on the hands. It is very durable, lives through wear and tear, and protects the bag from falling apart. As with the kid kick Wavemaster, setting up this punching bag is very easy as it does not need to be hung by chains or anything. The base can be filled with sand or water, to hold the punching bag in position.
Sand is usually the more preferred option because the water needs to be changed every few days at least. The bag does not come with any other gear like gloves, etc. It is, however, advisable to invest in gloves, hand wraps, etc for protection. If the child continuously practices without gear, they could hurt with knuckles and feet.
The only downside found to this bag was that it is priced on the higher side, but it does provide everything you paid for. This bag is mainly used for training sessions, so the price is justified. There is a lot to upsides to this bag. It is endorsed by trainers, can be left outside, durable, high-quality, interesting design, impact foam, etc. This is clearly a very good choice for your kid and should definitely be in your top options.
RDX Toddlers Punching Bag – Junior Kick Boxing/MMA Heavy Bag
RDX is a well-known brand in the boxing industry, mainly for its boxing gloves, but also for junior merchandise. This is a highly recommended bag because it can be used for a variety of martial arts. This is a hanging heavy bag unlike the freestanding bags mentioned earlier.
The bag is 3ft in height with the chain included and is therefore ideal for a child. RDX uses Maya Hide, a unique leather that is waterproof and long-lasting. The quality of the bag protects it against the common wear and tear of anything a child uses. This also means it can be hung outdoors as it has the strength to withstand wear and tear due to weather.
The gloves provided in this kit are also made of this material, providing the child with ample protection. The chain they provide is rust proof which is very useful if it is hung outdoors. The set up can be tricky, unlike the freestanding bags which only need to be filled with sand or water in the base. However, this is a hanging bag designed for a child, and it lightweight and therefore can be hung by an adult without too much of an issue.
This boxing kit is fairly cheap in comparison, but shipping charges can be a little high, as it is not easy to ship heavy bags. The punching bag comes with high-quality boxing gloves and a chain as well, making the buy very convenient. Not to mention, it increases the safety of your child by providing the glove with the bag.
There are a lot of upsides to investing in this set. Firstly, RDX is a well-reputed brand in the boxing industry. The bag and gloves are made from very good quality leather. It is the perfect size for kids. There are different colour options to suit your child's preference. Lastly, it is very inexpensive, excluding the shipping charges. Overall it is a wonderful kit and deserves its place on this list.
Factors to consider when selecting the best punching bag for your kids.
Size
What size punching bag you need depends on the age and size of the kid, because if the bag is too big then it becomes too hard for the kid to handle and if it is too small hitting it will be very easy, and they lose interest quickly.
Design
Hanging heavy bags are the popular kind of punching bags, but freestanding bags are also great for children. The kind you choose mainly depends on where you plan to put it. Hanging bags require a good amount of space to swing so it is ideal to hang one in a spacious garage or a backyard. They are very fun and helps with hand and footwork, while simultaneously improve their reflexes. With free-standing punching bags, you do not need to invest in mounts or chains, and it is the most convenient of the two options. It can be brought out when training and stored away when not in use.
Material used
The material used in making the punching bag is very important. The inflatable punching bags are very cheap; however, they are not durable, and a single tear can ruin them. Punching bags made of high-quality vinyl cost a little more but are very durable and can withstand wear and tear to a large extent.
Sets
Many punching bags come with a set. The right gear is very important for any sport, and a set will contain everything required at a reasonable price. Usually the gloves and possible a chain to hang the bag with it in a set. Some very popular brands do not sell sets, so it is important to know what your priorities are.
Price
Cheaper bags are not durable and are not worth the buy at all. Bags that are slightly pricier tend to be durable and of very good quality. There is usually a way around going for the pricier option, but unless you want to keep buying the cheap ones often, investing is a better option. This is, however, a personal choice.
After considering all these aspects, it will equally important to involve the kid in the decision making as well, because this is a hobby that they have to enjoy and stick with. If they are not very interested, it is advisable to get a cheap punching bag first and see if it really is for them, as children are distracted easily and constantly shift interests.
Conclusion
Boxing is a great way to get some exercise and let off steam, and a punching bag is the best way for a child. Not only do they get introduced to martial arts, but their speed, strength, agility, reflexes all improve. The above-listed punching bags are some of the best in the market but if these are not for you then keep looking, there are a lot of options available in similar price ranges. Good luck!