Boxing comes with a lot of strength build-up, practice and workout. There are a lot of back-end exercises that are attached to the boxing regime. There is warming up and then the jump rope, post which a boxer is supposed to do shadowing for his postures and then there is the speed bag training that helps improve the speed.
Finally, he is supposed to practice on the punching bag. Practicing on the punching bag helps the boxer in developing sturdy punches, increase his strength and stamina and helps him develop the skill of strong punching.
The heavier the bag is, the more difficult it'll become for the trainer to punch on it and thus it develops a boxer's balance and strength. It is extremely easy to set up the free-standing punching bag as it does not have any major weight or portability issues. It is one of the greatest discoveries that was thought of in the boxing regime for a person.
These Are Reviews of Some of The Best Free Standing Punching Bags
Everlast Hyperflex Free Standing Heavy Bag
Everlast products are the ideals that are always found in every gym. The company is known for the quality of its products at an affordable price and not to mention, the amazing range of products that it has. The free-standing punching bag is also one of its many products that are ideal for any gym routine.
It is an amazing upper body workout and great to be added for a workout regime. The bag is mounted with spring which helps it move more easily. The set up is very simple and there is not a lot of assembling required, the bottom is just supposed to be filled with water and the bag will stay right up. The bag is 10 inches tall and can be adjusted according to the height of the boxer. 
Features:
The height of the bag can be easily adjusted according to the height of the user of the bag
It is compact and can be carried around very easily
It is not very expensive and the materials used for construction are durable
It is not at all difficult to set it up as the base is only supposed to be filled with sand or water so that the bag stays stable.
Since Everlast is a very well known brand, investing in one of these bags for a daily workout regime can be a smart decision. The company is very friendly with customer service and investing in a product that is already well known in the market will be a very wise decision.
Ringside Elite Free-Standing Boxing Mma Fitness
Punching bags are very important to practice on in most strength sports. A sportsman must select a good punching bag according to his needs, among-st this, there is the Ringside Elite punching bag which is used by a lot of martial artists. This bag can take a lot of power from the hardest punches one can give and still stays stable. The material that is used to make this product is of very high quality and hence it is also very durable. This makes the product one of the best among-st the entire lot. It has a foam that absorbs the shock of the punches and minimizes the pain level of the athlete.
Features:
The bottom of the bag needs to be filled with water or sand and the capacity of the same is up to 270 pounds. Once the water is filled, this bag can take the hardest hits of a combat sport.
The materials used in this bag are of high quality and are durable in nature
There is extra foam protection in the bag that absorbs the shock while kicking
One of the most stylish designs found in a bag, Ringside is very well known for the quality of its products for boxing specifically, a good product to invest in if the aim is mixed sports.
Century Versys Fight Simulator
Considering the fact that certain buyers might want to invest in a more reasonable product, The century Versys fight simulator becomes ideal for them. It is not only used for kicking and punching like the other bags, but one can also use it for ground training and MMA. It weighs 110 pounds and the material used to make this product is of superior quality and it is very durable. The user can hit some hard punches and kicks and the bag will still stay very stable.
Features:
The quality of the materials used for the product is very high and thus, it makes it very durable.
The size of the product in 60x10x10" and its weight is 110 pounds
It is one of those products that works very well in ground training
It absorbs the punches very well and can also be used as a dummy.
Considering the fact that this product is one of the cheaper free standing punching bags, it becomes ideal for the people who want to take up general training and not only boxing. The worth of the product increases since it can be used as a ground work out tool which most people look out for.
Combat Sports Boxing Mma Muay Thai Fitness
Another reasonable and budget-friendly product in the market is this free standing punching bag. It is specially designed for beginners in martial arts and boxing. The material that is used for this bag is nylon and this is one of the most ideal bags for young learners. Considering that a child will grow with time, this bag's height can be adjusted as and when needed. It is also made bright and colorful according to the children's preferences. The bag needs a fill-up of sand or water in the bottom so that it can stay sturdy. For the same reasons that it is great for children, professional trainers might want to go for a more featured bag.
Features:
Ideal for children and beginners in combat sports because the height can be adjusted
Easy to set up by filling up sand or water in the base
Colourful and attractive design for children
This bag turns out to be a great buy for people with a budget, beginners, kids who are taking up training etc. This does not become a great buy for professional trainers as they might want to invest in something that is made of more durable material.
Everlast Power Core Freestanding Heavy Bag
A few brands ace the market in some segments, they know exactly what to make and exactly what can capture the market. These brands have some pointers which they build their product upon and win the market. Everlast is one of those brands. This company has been able to ace in the gym equipment as it does adequate research of what is required in the market and then shoots with a range of products that have a great design, great quality and an affordable price range.
This product is one of the most professional products one can buy for higher-level training. It is extremely sturdy and can take up the limitless hard punches and kicks from a person. its design is very powerful and its sturdy structure will definitely attract a high-level trainer.
Features:
The product is made from high-quality material making it a very durable bag for trainers
Its shock absorption quality is excellent, be it any level of punches
It is ideal for professional boxers and trainers
The height of the product can be adjusted within the range of 52-65 inches.
The product base needs to be filled with water or sand for its sturdiness.
Considering the fact that Everlast has been able to create an excellent image in the market, people trust its quality. They would rather invest in something that has been in the market for years and is well known rather than buying something new. Also, the features of this bag match the requirements of a professional trainer, thus it becomes an ideal buy for them.
Benefits of using a free-standing punching bag: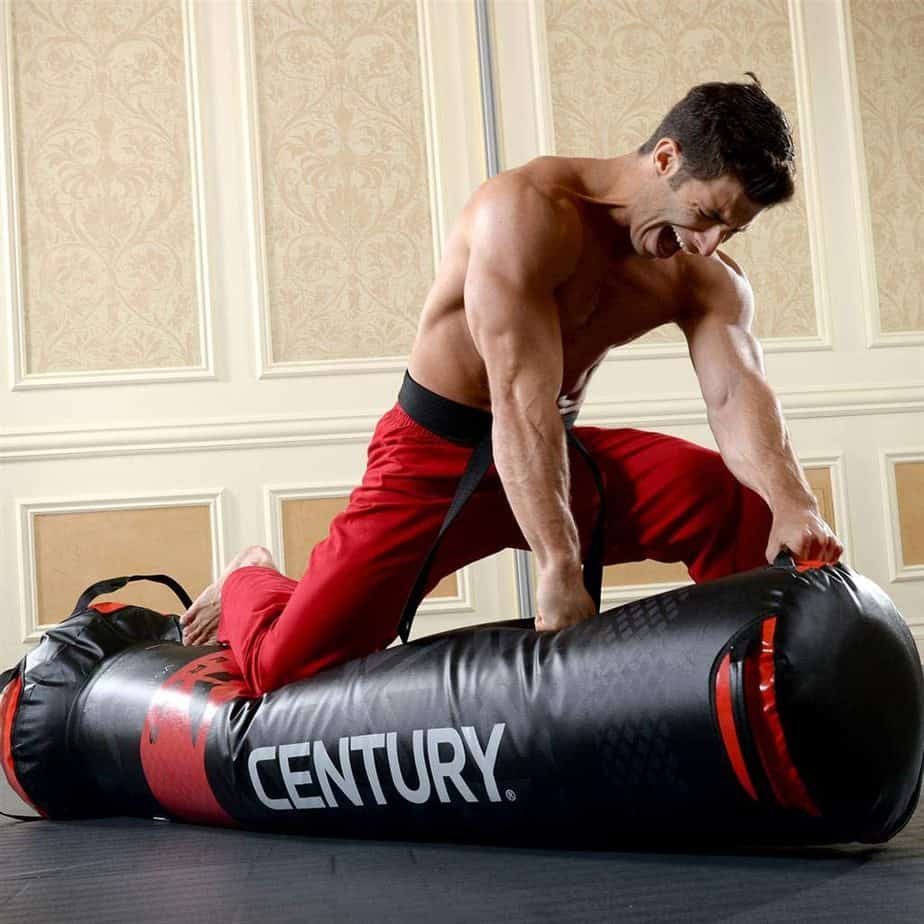 Convenient and portable
As a matter of fact, these do not need to be mounted, hence there is no need for them to stay in one place. Obviously they are heavy, so it takes some effort to carry them or move them, however, it is not too difficult. One might use it at the gym, at home and then take it out to the garden to use. It is basically movable and hence it is convenient for the user. If the user is using sand to fill in the bottom, it might take a while to empty it, however, if they are using water for the stability, you can easily out pour it and carry it along.
No mounting needed
One of the best parts about a free-standing punching bag is that it does not require any kind of mounting. There are no screws and bolts and no setups, you just need to fill water or sand for the stability of the bag and you can use it for practicing.
No extra equipment required
Unlike any other punching bag, a free-standing punching bag does not require the user to buy any extra equipment. It is sole equipment in itself and can be used alone by just adding some weight in the bottom for stability.
Things to ask yourself before buying a free-standing punching bag
What is the main purpose of purchasing the bag?
What kind of sports or activity do you want to use it for?
What is your budget?
How many people are going to use the bag?
What is the size of the bag that you are looking for?
Are you looking out for the best quality?
Conclusion
Boxers require a lot of training so as to reach the stage of perfection. Even then, there is no perfection, thus, their journey keeps going on. In order to improve their training, they must have the knowledge of what to buy. One might want to use a punching bag for general training, gyms might want to keep one, one might want to use it for MMA and one might want to use it for professional training. These bags are also different with the levels of training, for instance, a boxer can be a beginner level boxer who can rather invest into a more affordable bag just in case he decides to drop the sport in future. Different bags have different features and the user must be able to decide what he is looking for in this bag.
These are expensive investments, for general training, one must make sure that he is buying something that can be used for all sorts of ground training as well as standing training. The more user-friendly the bag is, the more the user will fall in love with his regime. A free-standing boxing bag is an excellent investment also because it is portable and does not need to be mounted. Thus, when a boxer, an MMA artist or any trainer is willing to purchase such a bag, he must do all his research properly, take reviews, check out a few options and only then select a bag for himself. In this manner, he will be able to make most of his investment in the product.