We all have grown up watching professional heavyweight boxing. One thing that has not failed to be noticed, is the fact that more often than not, we see black boxers in the ring.
Who has not heard of Mohammed Ali and Joe Frazier for instance. While one may not come across a lot many white boxers, here is a list of some best ones in the USA. 
While the list does not claim that they are the greatest ones in the history of all time, they all have tasted a good amount of success during their professional boxing career.
Whether it is the amount of wins, their awards or simply their tenure of championship, they all have one thing in common – their undeniable winning streak and that all of them belong to the United States of America. 
Boxing has been firmly rooted in the consciousness of Americans and the country has produced a myriad of world champions. For many many years now, boxing has been a central part of American sports along with baseball and horse racing.
Without much further discussion, let us go ahead and scrutinize some of the best white boxers in the USA. Since boxing comes with a complex history, there can be plenty of room to debate and we all may have our personal favorites to make up to the list.
But for now, let us take a look at 14 best white boxers from United States of America:
John Sullivan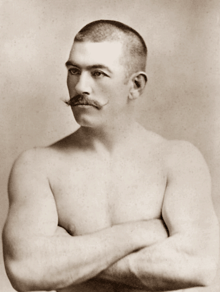 A legendary figure and a household name in the world of boxing, Sullivan is the first modern heavyweight champion. He is known to be a passionate boxer and was famous for coach to coach tour with five other boxers in the year 1883-84 across 136 cities.
He was known to knock out over 30 boxers in that single tour. Time and again Sullivan has proved to be the first heavyweight champion all across the globe and defeated many influential boxers including Paddy Ryan, Jake Kilrain and many others. Sullivan has inspired a lot many Americans to pursue boxing as a career.
James John Corbett
Popularly known as Gentleman Jim in the boxing fraternity, he earned the tag of "Father of Modern Boxing" for his innovative and scientific strategies in boxing. He became world heavyweight champion in the year 1892 after defeating John Sullivan and tasted the peak of his success. Not many are aware, he was an actor also outside the ring. The famous movie "Gentleman Jim" is based on his autobiography.
Rocky Marciano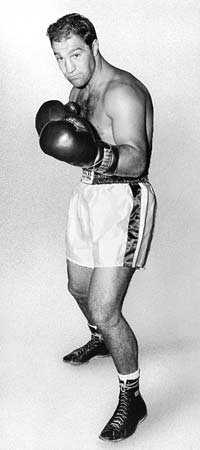 Born in 1969, Rocky was a great and popular American heavyweight boxer and the same is evident through his career record. He was one of the boxers who never got defeated at all through their playing era. Out of 49 matches that he won, 43 were Knock out.
He is in fact, the only boxer in the history of America, who could retire undefeated. The Oscar winning movie "Rocky" was based on his story. Rocky started his boxing journey in 1947 and was the champion of heavyweight boxing from 1952 to 1956. He is also ranked 14 in the list of 100 greatest punchers of all time by the Ring magazine. 
Robert James "Bob" Fitzsimmons
Originally from New Zealand, Robert has a prestigious record when it comes to American heavyweight boxing. He defeated James Corbett and won his championship. Among 82 appearances that he has made, he got success in 51 of them.
Not to mention, 44 of his wins came by knocking out the opponent. He was numbered 8th in the list of all-time best boxing punchers by the Ring magazine and is an influential figure in American boxing world. He is also a respectable member of the International boxing hall of fame.
Jack
Talking of American boxers, Jack is yet another star champion of all time. Born in the year 1895 in the USA, he is also known to be one of the famous boxers of the pre-war era. He was the world champion from the year 1919 to 1926 and won 62 matches out of his 83 appearances.
This prominent boxer won 50 matches by knock out, out of which 26 are known to be in the first round itself. It is evident how aggressive and passionate he was inside the right. He is also known for his fight against George Carpentier. His name is listed under the International Boxing Hall of fame and has a street named after him at Madison Square Garden. 
Tommy Morrison
This American boxer is known to have a highly eventful career graph. He won the WBO championship in 1993 and kept the title for just about four months. He fought 50 times and won 46 out of them. Besides his remarkable wins, he is more memorable for his acting in the movie Rocky V.
He amazingly played the part of Tommy Gunn – an ungrateful champion. While his performance made him very popular, unfortunately, his life was not very disciplined. He got involved in drugs and stayed in prison for over a year.
Gene Tunney
Gene Tunney is known to be a legend killer since he beat Jack Dempsey twice – one of the best heavyweight boxing champions. Gene was a skillful boxer and also served as a US marine. Beside Jack Dempsey, he also fought against many other famous boxers like Tommy Loughran, Tommy Gibbons etc. During his entire boxing career, he lost only one match out of 88 matches that he played. 
He was also famous for his defence skill and held the heavyweight boxing champion title from 1926 -1928. He fought a match with Dempsey in 1926 and again in 1927. The second fight remained very famous and was titled as the Long Count Fight. He also starred in the movie called The Fighting Marine.
Joe Louis
Joseph Louis Barrow, popularly known as Joe Louis was an American professional boxer who competed during 1934-51. He enjoyed the title of world heavyweight champion from the year 1937-1949 and is known to be one of the greatest heavyweight champions ever. He was also nicknamed as "Brown Bomber", his championship reign lasted 140 months at a stretch. He participated in 26 fights during the reign and the 27th fight proved to be a challenge for Charles Heavyweight title. He won 25 consecutive defenses.
Joe Calzaghe
Calzaghe is known to hold the prestigious record of divisions longest world streak and also held WBO title for more than a decade. While he was not one of the slickest strikers or the best puncher, he was known for his excellent ring craft and his big heart. He was a big puncher in the initial years of his career. But brittle hands and following injuries forced him to change his style to an approach that was more volume based.
He was also known to be one of the few world champions who enjoyed a long reign and retired non defeated at the prime age of 36 years. Some of his most notable wins were against Roy Jones Jr, Bernard Hopkins and Chris Eubank.
Oscar De La Hoya
Oscar De La Hoya was known to be one of the greatest boxers in American history. A dominant part of his career was not the fact that he won 10 world titles in different weight segments and took on all corners. Yes, as impressive as the record might be, what really had set him apart from the rest of his opponents was his star power.
He generated a record breaking figure of $700 million in a pay per view revenue. Constant pressure, stinging jab and moving in and out of range was his particular style of boxing and that is what enabled him to take on most of his opponents in the ring to deep waters and end the fights with sheer accumulative damage.
He also found Golden Boy Promotions in the year 2002 after enjoying an active boxing career. He is also known to promote fights in a myriad of disciplines of combat sports. Some of his very notable wines were the ones against Julio César Chávez, Héctor Camacho and Pernall Whitetaker.
Julio César Cháves
Julio was a true boxing icon and he started his career with an unbelievable and undefeated streak. While many people view Julio as the best and one of the most influential boxers of Mexico, it is indeed an accomplishment worthy of a mention, since Mexico has a vast amount of talent produced in the past decades.
His boxing style is famous and a great example of Mexican Style which is a balanced combination of usage of left hook, right straight and aggressive pressure fighting. 
He combined his style with a legendary granite chin, but don't be confused here. He was not merely a brawler, but also possessed great footwork, and was an out of the world ring cutter. He is known to set the record of largest attendance for a boxing match during his 1993 win against Greg Haugen.
He was also listed as the world's best pound for pound boxer from 1990 to 1993 by The Ring Magazine. Some of his notable wins were against Meldrick Taylor, Edwin Rosario and Hector Camacho. 
Gene Tunney
Tunney was one of the best and first few athletes who dominated fights with a tactical and measured approach, in a time where most boxers were known to be aggressive sluggers. He used to box up his opponent behind his jab and never did he get defeated as a heavy weight.
The only loss he faced came by Harry Greb, a loss he recovered by multiple victories over Greb. His major success came after beating the ever great Jack Dempsey, twice. In 1928 he became the very first fighter to be elected as Fighter of the year by Ring Magazine.
Harry Greb
If you want to know about a boxing legend, the first name that comes to mind is Harry Greb. He was bold and hyper aggressive in style which was a little too much for his opponents to deal with. He portrayed a deadly combination of ring craft, athleticism as well as aggression which led him to be the World Middleweight Championship.
He was not just fearless inside the ring but also took on his opponents well. He was often beating his opponent significantly, which is one of the reasons he had an outstanding record. In fact, he is also the only boxer ever who could beat Gene Tunney. Harry died at a young age of 32 due a complication during his nose surgery and respiratory tract.
Roberto Duran
Popularly known as "Manos De Piedra" which means hand of stone, Roberto was widely known to be the best lightweight boxers of all time. He was known for an aggressive and brawling style combined often with a lot of trash talk. During his boxing tenure, he fought with every quality contender and never feared to step up in the weight game.
This is what led him to become part of "Fabulous Four".Duran was also the first man to beat great Sugar Ray Leonard. He had a notable career spanned across five decades and he had over 100 professional victories in his kitty during his tenure. He retired in the year 2001 and was known to be an all-time great in boxing history. Some of his most notable wins were against Esteban De Jesus, Iran Barkley, Sugar Ray Leonard and Davey Moore.
Conclusion
While the list entails 14 notable white boxers in the history of the United States of America, the list is not exhaustive. America has definitely produced a myriad of noteworthy white boxers that deserve a mention and were popular for their wins, boxing styles or simply their big hearts. What do you think of these? Did your favorites make up to the list or you would like to add some more? Do let us know in the comments below!