Venum is one of the leading brands in the glove industry today. Venum has been a contender in glove making for more than a decade, and they have constantly worked on improving the quality, features, and the design of their gloves.
Over the years, the company has used the help of trainers and professionals to test out their gloves and worked on nearly every suggestion. All of Venums' gloves have an aggressive exterior, with their tribal prints and the color schemes.
There are many mid-range gloves in the market, but Venum has managed to create a niche for itself because of the uniqueness of their gloves. Some people have a taste for the bold designs, but if you are someone who likes plain gloves then you may want to consider other brands. We will discuss five of their best series ranked accordingly. If you are looking for quality venum boxing gloves review, this list will certainly help.
Top 5 Best Venum Boxing Gloves Reviewed
Venum Elite Boxing Gloves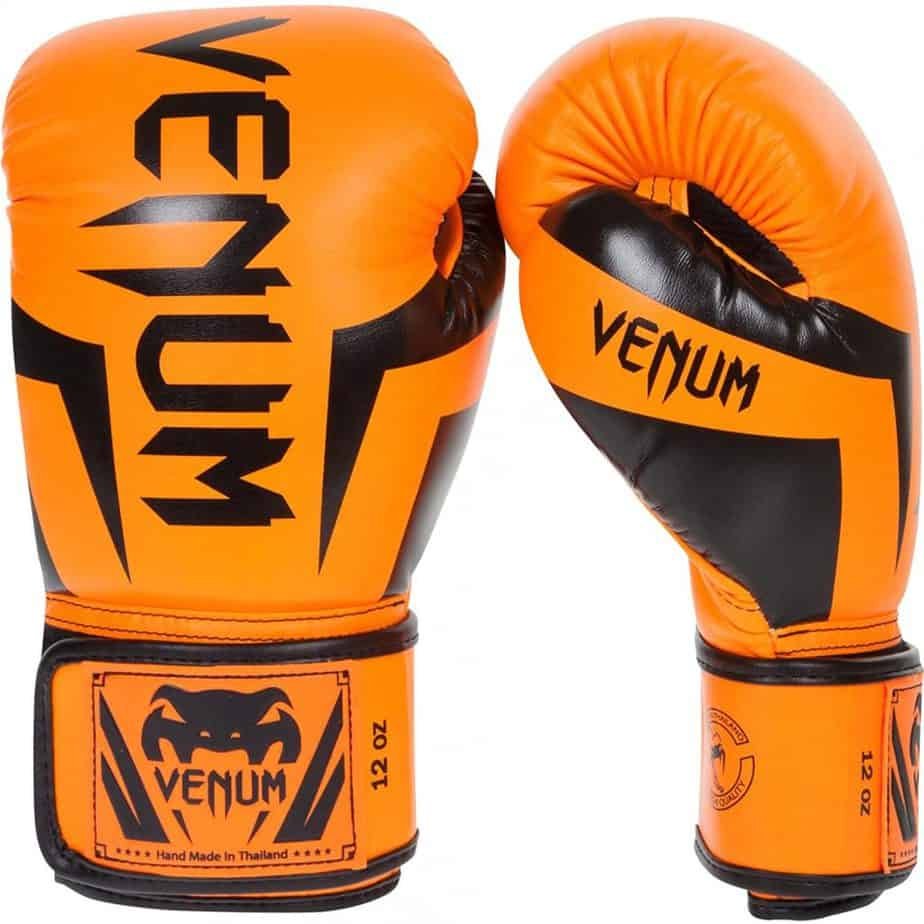 Venum Elite is the most popular series among Venum's boxing gloves. Elite boxing gloves are good for training in the gym and sparring, and while professional fighters prefer expensive championship gloves, these gloves are not second to the ones on the higher end when the purpose is training. This is a mid-range glove, the average cost being around 65$.
There are about fourteen different color schemes to choose from and each is priced differently, with regard to popularity and size. Whether you like the bold MMA designs and graphics or you like your glove to be sober yet powerful, there are options to suit every taste. Much like all other Venum gloves, the elite series also has the standard embossed venom logo, making them fairly unique. I would be stating popular opinion when I term these gloves comfortable, as all customers have.
The triple-density foam provides good protection to the hands, and the wrists are protected as well, which is a feature not all gloves carry. The additional thumb design increases the gloves' notable features. The gloves come with a mesh covering on the front, that allow your palms to breathe and keep them cool.
These gloves, however, are slightly on the larger side, and while this is not a major concern, it is always better to use gloves that do not have a lot of wiggle room, thus improving the grip.
If your hands are on the larger side, then these gloves should definitely be considered. Although the gloves are not made of genuine leather, the skin tex leather used holds up and lasts surprisingly well through wear and tear.
There is a lot of padding in the palms, and while that normally restricts clenching, these gloves are comfortable, and one reviewer even felt it took the shape of their hand. The gloves are made in Thailand and are therefore not bad quality by default.
If you are looking for a mid-range glove and like the venom aesthetic, then this glove is your best option. The only disadvantage is the little extra space in the thumb and palm area, but that is not a concern for bag and mitt practice, as well as light sparring.
For heavy sparring or competing, my advice would be investing in a pricier glove. Elite gloves may not be the best on the market, but they are certainly worth the buy and will last you a few years, if not many.
Venum Challenger 2.0 Boxing Gloves
Venum Challenger 2.0 boxing gloves, though not as good as the elite series are best gloves for beginners, and here is why. It is an inexpensive glove, costing approximately 50$.
There are sixteen different colour combinations to choose from and six different sizes, so every individual can find a glove specific to their size and liking. People looking for a glove that is not too loud but looks powerful at the same time will like the exterior of these.
They have a velcro closure that provides comfort and also protects the wrist. They have an additional elastic band that allows you to adjust tightness yourself. A glove that does not fit well could lead to severe injury and this glove provides protection against the same.
The thumb portion is part of the glove, protecting the thumb from likely bruising during bag practice or sparring. The challenger 2.0 series is designed with triple density foam, providing very good protection to the hand. The gloves are designed perfectly to the shape of the hand and allow effortless movement.
Much like the elite series, these gloves also have the mesh palms that allow your hand to breathe. They are not made of genuine leather, but the hybrid synthetic leather has not received many complaints.
The plastic mix in the glove makes it a little stiffer and hence takes some time to get used to, but the same is used to provide the glossiness that the challenger gloves boast of. The cushioning always gets compressed while throwing punches, but bounces back, which makes the glove long-lasting.
These are mainly good to be used during training sessions and withstand harsh bag training. The good thing about these gloves is, they can be used for several sports excluding boxing as well.
The pros of buying these gloves are that they are perfect for beginners, cheap, good for heavy training as it provides ample protection, lightweight, waterproof. The cons are the craftsmanship is not top-notch, not very durable, average wrist support. Overall, it is a good glove, and worth the price.
Venum Contender Boxing Gloves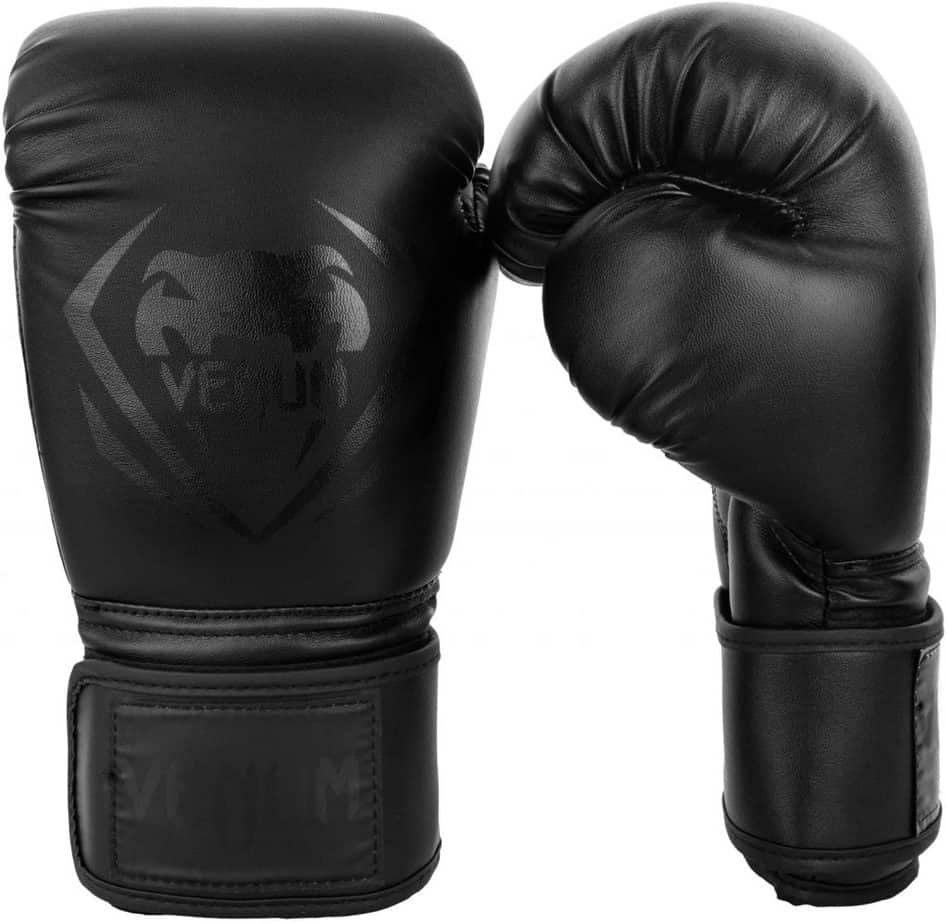 Venum Contenders are cheaper gloves, average cost being about 35$. The contenders are an entry-level glove and are better suited for beginners. It has an adequate amount of padding, suitable for training with bags and mitts.
However, if you are moving on to sparring, you might consider other gloves, as these do not have the ample padding required for sparring. These are heavy bag gloves that have the signature Venum triple-density foam protection, keeping your hands bruise-free and increasing the comfort levels of the glove.
They have a popular hook and loop style closure that is very easy to use. They also have a large velcro that binds the glove at the end. This ensures that the glove is truly secure and that it does not provide any discomfort to the user by loosening. It is a known fact a velcro loses its intensity over time if not maintained properly, and thus it is important to give them a regular cleaning.
Some reviewers have found that the glove takes some time to break-in, and it may feel slightly tight in the beginning. The glove has a natural curved anatomical shape that increases performance and reduces the risk of injury. It also helps in maintaining a good striking technique. The gloves have the connected thumb, offering extra protection and preventing the twisting of the thumb during bag practices.
Hence it is safe to say that despite the break-in period, these gloves are comfortable, considering features like the foam padding, thumb protection, padded closure, etc. Many reviewers have found the gloves exceptionally comfortable. These gloves are made of high-quality synthetic leather, and unlike the challengers, do not have a plastic feel to them.
Reviewers found the gloves very durable considering the price. One of the reasons these gloves are ranked lower than the elites or the challengers is because they do not have a heat regulating mesh, and while they do have ventilation holes, they aren't quite as effective.
In conclusion, the Venum Contenders are a wonderful option for beginners and should be given a fair chance.
Venum Impact Boxing Gloves
Venum Impact Boxing Gloves are pricier than the contenders and hence not as popular, but they are well worth the buy. On average they cost around 70$, and it varies with every color scheme and size. The gloves left a lot of customers highly satisfied, and most reviews suggest the glove is exceptional.
Like a lot of the top-rated gloves, these have padding made of triple density foam that closes around the thumb as well, giving more protection than a lot of gloves by popular brands. The foam makes the gloves shock/impact absorbent which is a major plus during training. Boxers are prone to injury, and these gloves help reduce the risk as much as possible.
The gloves have longer cuffs than normal, offering extra protection to the wrists. The closure is a large velcro that holds the glove in place and it helps avoid unnecessary injury. There are a lot of positive reviews about the comfort and fit of the glove. While most users were happy with the long cuffs, some found them too long and irritating. This was a low minority in the reviews.
The users have also stated that while the gloves were adequately comfortable in the beginning, they only got better with time. They are also highly durable, made with good quality synthetic leather. Unlike the contenders, these also come with the heat-regulating mesh panel to make sure the palms are aired out.
The gloves can be used for a wide range of purposes, ranging from basic bag and mitt practice to intense sparring. These are versatile gloves that are durable, secure, reliable, and offer great protection. In my opinion, these are highly underrated and deserve all the positive reviews they can get.
Venum Giant 3.0 Boxing Gloves
Venum Giant 3.0 Boxing Gloves is one of the most confided in gloves in the market. Regardless of whether you are doing jujitsu, MMA, Muay Thai or something else, the Giant 3.0 Boxing Gloves will last a very long time.
These gloves are particularly known for the protection they provide, which includes the triple-density foam and the additional padding in the cuffs to protect the wrists. Its exceptional shock absorption ensures that your knuckles and hands are relaxed, helping you train for longer periods.
It is very important to wear gloves that are secure and have no risk of moving around, because not only can it distract you during a fight, it can also lead to injury.
The Venum Giant 3.0 gloves come with wide velcro closure, ensuring that the glove is adjusted perfectly according to the size and shape of your hand. These gloves are sweat absorbent and help keep your hands fairly dry and reduce odor.
They are made with the same synthetic leather, and a lot of users compared its durability to that of Elites. They can be a little hard to break, but that it the only drawback to the glove. They are comfortable, reliable, sweat-absorbent, provide good protection and stay secure. If you are looking for a good, sturdy glove, this one is perfect for you.
Conclusion
This list has been ranked based on customer reviews, durability, price range, and basic features. All of these are good gloves and are known in the glove industry. I hope you have found what you were looking for and good luck!