Every boxer knows the distinction between a bag glove and a boxing glove. If you are new to boxing and these terms seem foreign to you, or if you are a pro boxer looking to buy the best set of training gloves, look no further. I am here to guide you in picking the ultimate training gloves.
For you newbies out there, I sense the confusion. A boxer usually sports three kinds of boxing gloves: one for sparring, one for training and one for fighting. Bag gloves are modeled solely for use on punching bags and boxing pads.
These gloves have relatively less padding than boxing gloves. Boxing gloves, on the other hand, are used for more serious training and sparring. Hence, they pack more padding.
The extra padding ensures that you would not inflict as much damage to your opponent as you would in an actual boxing match. Training gloves are all-purpose gloves whose construction features balance that makes it suitable for sparring and punching bag training.
Nevertheless, you would need to consult your instructor before using training gloves for sparring. Fighting gloves or competition gloves are used for serious fighting (as the name suggests). These professional gloves have much firmer padding and are smaller and more compact. Their construction allows for maximum damage infliction onto the opponent.
Many a time, this question pops up: Is it necessary to wear gloves? Why can't I just punch bare-knuckle? The answer is yes, you can. But this only applies to when you are practicing on your punch-bag. Practicing without boxing gloves is considered favorable when you are looking to strengthen not only your knuckles but your forearm muscles and wrists as well.
However, it is not recommended that you do this often as you could injure your knuckles and fist or even get a sprain. The entire purpose of wearing boxing gloves is to protect your knuckles and fist and additionally during brawls, to prevent facial cuts and to increase the likelihood of knocking out your opponent.
Top 5 Best Boxing Gloves For Training Reviewed
Here is a list of the top five boxing gloves for training. I have specified both the pros and cons of each. Remember, even though I may have mentioned that some gloves are all-rounders i.e. they can be used for both training and sparring sessions, always consult your coach before using them. Have a look…
Winning Training Boxing Gloves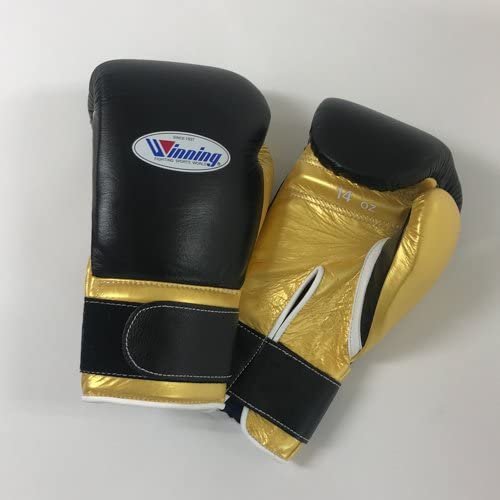 The Winning Training boxing gloves are the premium choice for all the right reasons.  Winning is a Japan sourced high-quality material that is the most common pick by old-school heavyweight boxing champions. Their products follow strict quality control.
The Winning gloves not only provide the best comfort with its construction but also packs a great deal of impact when you throw your punches. These top-notch leather gloves feature a lace-up closure that goes up to center palm for maximum shock absorption, a water repellent nylon covering and you would not face the problem of odor and sweat as compared to other gloves.
These high-tier gloves are pretty much your all-round gloves: great for sparring and heavy bag training. The downsides to these gloves are its big price-tag and that you would face difficulty if you don't pick the right glove size. 
Everlast Elite Pro Style Training Gloves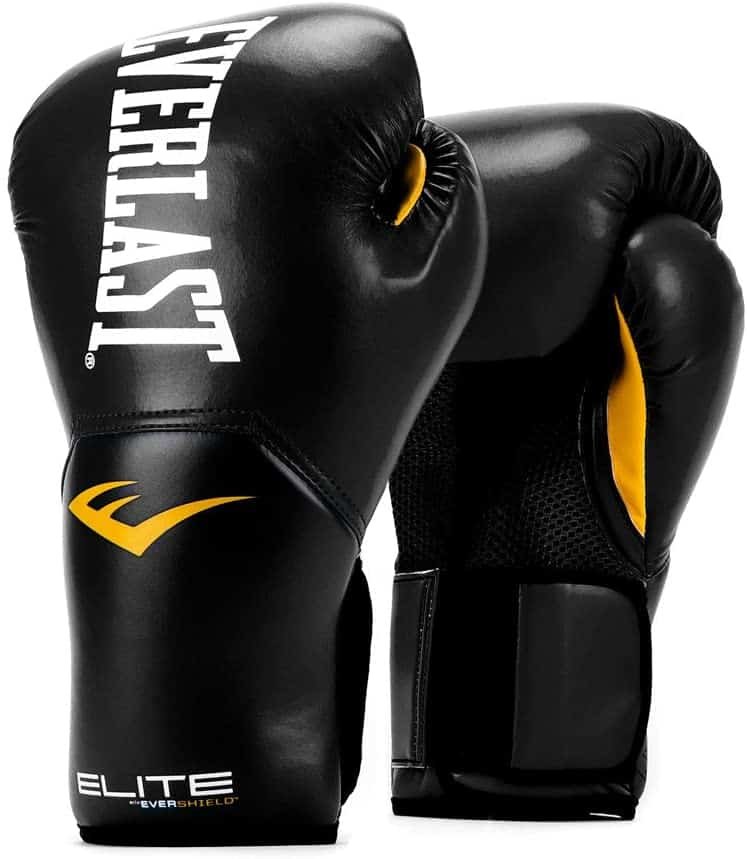 The Everlast Elite Pro Style line of training glove products is tailored specially for the female hand. They have a wide range of sizes to choose from so that the gloves do not press too tightly on the hands but rather comfortably hugs the form of the hand. The frontier of the arm is constructed with a complete mesh-like material that allows for breathability by letting the through and fro flow of air.
This enables a better, drier and more productive training session. These training gloves are made of synthetic leather thus making them easier to clean and maintain.
The gloves feature padding that cushions the fingers on impact and has a thumb lock that keeps the thumb in place, preventing it to bend backwards due to a strong punch. The downside to these gloves is that some women complain that the Elite Pro Style line does not have glove sizes that are just right for their hands. This, of course, is a personal opinion and would not affect everyone.
Venum Elite Boxing Gloves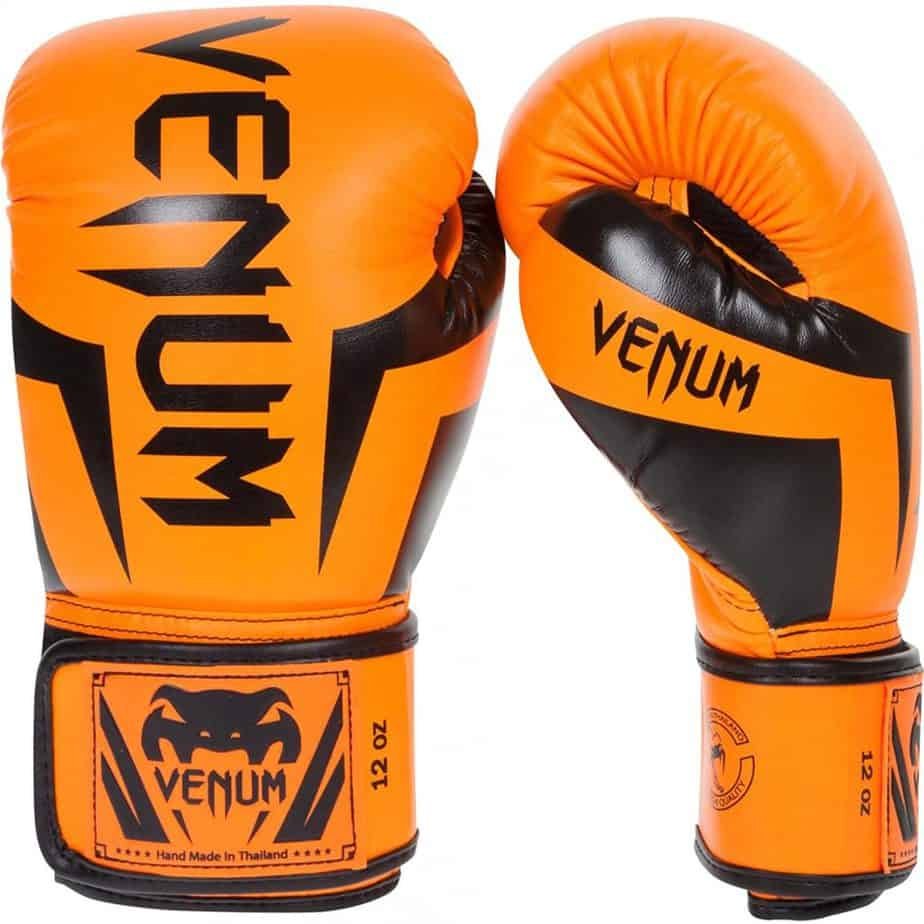 Venum has pretty much made its name owing to its good quality products that provide the comfort and protection its users look for.
The Venum Elite Boxing Gloves has an attached thumb lock for support on impact, is constructed of triple density foam padding for better impact resistance and is covered with a premium skin tex leather exterior.
Venum also adds a thermal regulatory technology to these top-notch boxing gloves. The thermal regulatory pad runs along with the interior of the glove. It consists of a mesh to reduce sweat, thus hampering the development of bad odor and bacteria growth.
These next-level gloves are surprisingly affordable and feature 14 color shades to choose from. The drawbacks of this sophisticated product would be its large size making it unfavorable for lightweight boxers and bag trainers to use and also that the 'break-in' period can take a while.
Cleto Reyes Hook and Loop Training Gloves
The Cleto Reyes Hook and Loop Training Gloves has the whole package: a long lifespan of durability, strict quality control testing, more than thirty different styles to choose from, and attached thumb lock for safety and a unique 'hook and loop' mechanism that obstructs wrist mobility while giving you increased control of your punch landing.
The hook and loop feature also makes setting up the gloves and taking them off a piece of cake. These top-notch hybrid gloves, used worldwide by professionals in all combat sports, are constructed of premium grade goatskin leather with a water repellent nylon covering and is not a stranger to comfort.
To top it off, these gloves are all-rounders which you can use for sparring sessions and heavy bag training. The only drawback to these premium gloves is its expensive price and break-in period of one to two weeks in which many users complain that the gloves are too stiff. 
Title Boxing Pro Style Leather Training Gloves
This TITLE glove series boasts of safety from potential injuries due to the construction of its multi-layer shock absorbing low-density foam padding within the glove. This well-padded glove is essential if you want to keep your palms free from injuries, like fractures and sprains, at bay during your training sessions. Its key features include its thoughtfully constructed padding that does not just provide comfort and protection but is water-resistant as well (owing to a satin nylon lining!), a hook and loop closure, its long-life durability, and a full-grain leather cover.
Features You Need to Consider when Looking for Best Boxing Gloves for Training
Durability and breathability
You are going to want to look for something that is durable and breathable. After all training is something you will be doing more often and not, so it is a good idea to invest a little bit more in purchasing training gloves of excellent quality and comfort. You are going to want to settle for gloves that are breathable so you don't face problems with bad odor.
When you sweat during an intense session, your gloves become the ideal place for bacteria multiplication. The growth of bacteria contributes to the bad odor of your gloves and also makes to very unhygienic for you to use. Luckily, modern boxing gloves come with an antimicrobial lining that inhibits bacterial growth to a minimum. Couple this technology with regular cleaning and you are good to go.
I will share tips on how to clean your gloves whilst maintaining its durability at the end of this article. So stay tuned!
Safety
You would want to look for gloves that feature good padding near the fingers and are constructed such that they spread the impact when you throw powerful punches. I believe it is essential that your training gloves have thumb locks.
Thumb locks keep your thumb in place and thereby preventing it from getting injured by bending or fracturing during your intense sessions. I am going to include hygiene under safety because being safe from infections is considered good protection too.
Many modern gloves use technology that hinders the growth of bacteria in your glove. Keep a lookout for those because the anti-bacterial feature that they have is effective and when you couple it with good regular cleaning of your gloves, you're guaranteed to be safe from contracting unwanted infections from those little nasties.
Comfort and fit
It is recommended that you consult an expert while making your pick. Ask all the questions you have to, no matter how silly it seems. You do not want to invest a lot of cash only to end up with equipment that does not fit. Although initially, the right gloves may seem stiff, after a week or so (the break-in period), with continuous wear, it will comfortably hug the form of your hand.
Lace-up vs. Velcro gloves
This is more of personal preference. Some people feel that the lace-up gloves provide more of a grip and allow more control over punch movement and impact. Velcro gloves on the other hand, with their modern design and technology, are constructed with inbuilt wrist wrap feature (limiting the mobility of your wrists and thus reducing the chance of it getting injured by awkward jerks).
A comparison of the pros
| | |
| --- | --- |
| Lace-up Boxing Gloves | Velcro Boxing Gloves |
| Padded wrist area which improves comfort and provides a tight, secure fit. | It is easy and quick to equip and take-off during training or sparring sessions. You do not require another person to help you with putting it on. |
| Longer cuff for a better fit on the arm | The strap provides an extra level of support to your wrist |
| There is no risk of scratching the opponent as opposed to using Velcro gloves | The market has a variety of unique fastening styles of Velcro attachment which individually boast of different levels of fit and support. |
a comparison of the cons
| | |
| --- | --- |
| Lace-up Boxing Gloves | Velcro Boxing Gloves |
| You usually require the assistance of another person to lace up the gloves. This becomes frustrating when you are training alone. | The Velcro strap makes the glove bulky and some boxers find this uncomfortable. |
| They are relatively time-consuming to put on and take off. | Low tier Velcro straps can lose their effectiveness over time. |
| Lace ends could cut your opponent. So gloves have to be taped up at the wrist when fighting. | The velcro can scratch opponent opponents. Sometimes the strap is too long, leaving the velcro exposed. |
How to Keep Your Gloves Clean?
Rub about a tablespoon spoon of apple cider vinegar on the interior of your gloves with your hand. Let it dry overnight and then voila! the stink disappears and you've pretty much eliminated all bacterial life. In the case of super stinky gloves, it is safe to repeat this procedure one more time.
You may have heard that boiling your gloves is an effective method of cleaning them. How about I introduce you to an even better method! Try freezing your gloves overnight instead and set them to air out for the next two to three days. Surprisingly, freezing is one of the most effective ways to kill bacteria and stink.
The saltwater soak method is only recommended for gloves that are constructed of material which is non-reactive to saltwater. It dissolves the bacteria in your gloves and also eliminates odour. All you have to do is place your gloves overnight in the solution and have it dry up the next morning.
If time is not on your hands you could make use of a perfumed antibacterial spray. This method is simply a quick fix and is not recommended as your primary method of cleaning your gloves.
Conclusion
Hence, this was the overall guide to help you in finding the best boxing gloves for training.