Boxing is an aggressive sport that requires strong dedication and stamina. Sometimes, it can also be taken up as a workout activity. These days, we have more women coming up in this field and we see a lot more representation.
However, it isn't that women haven't always taken part in the game. Even as an amateur indulgence, there are several who take up the sport whether to train seriously to enter the ring or to maintain a fit body. Either way, the game requires good gear that will help you power up your skills and develop the right way of performing. And in this article we are going to review the best boxing gloves for women.
Top Boxing Gloves For Women Reviewed
Hayabusa S4 Boxing Gloves
The gloves are ideal for combat and training fitness. Its foam make allows the gloves to gauge your natural hand curvature and gives you a compact fit. It has apt fist closure and shock absorption abilities. The single splint design helps steady your punches and gives you swift movements.
The anatomical curve with the grip bar and a comfortable thumb fit help a smooth hand fit. It comes in varied sizes. The adjustable Velcro strap helps with comfortable wrist support. Its leather make and nylon lining makes for the right material and its mesh lining helps in hand ventilation and hygiene. The product comes as a kit with gloves and hand wraps and can be used for several other forms of martial arts outside boxing.
ZTTY Boxing Gloves
The gloves are made out of PU leather which gives strong protection and ensures durability. The body has a three-layered thick liner that gives a comfortable fit and punching ability. The pinhole design on the palm allows space for ventilation and keeps your hands dry.
The wrist closure is wide and long with Velcro for secure closure and makes it easy to put on and take off the gloves and gives wrist protection. Latex cotton material lines the boxing gloves giving it the ability of extra wrist protection. It comes in a price range that is valuable to slightly expensive and you can choose accordingly depending on your weight requirements.
Jayefo Glorious Boxing Gloves
The gloves have gel injected interior with layers that help with protection during throwing punches. The lining of the gloves is comfortable and has extended durability and is water-proof. These handmade gloves have a natural fit ability that moulds to your hands easily after use. It maximizes your hand grip.
The gloves have a thumb lock to protect your thumb from injuries. The mesh lining of the palm keeps your hands cool and dry. It prevents moisture and ensures grip. The dual wrist strap is made of Velcro and keeps your gloves in place with extra strength. It straps easily and stays in place.
The product is entry-level priced and is value worth, especially for a beginner. It is suitable mostly for boxing and bag/pad work with also kickboxing ability.
Tusingger Boxing Gloves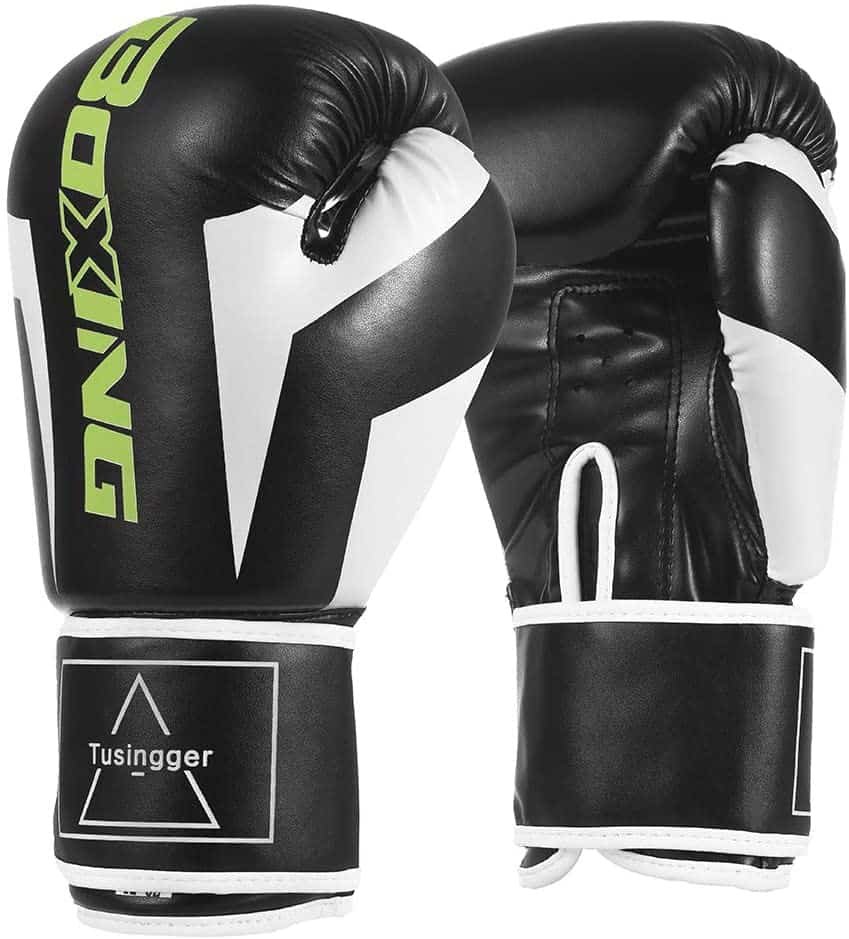 The interior is multi-layer polyurethane and is gel injected for better protection reducing hand and wrist injuries. The knuckles have foam-based padding with extra-thick polyurethane and have a leather make. The foam ensures protection and flexibility.
The pinhole palm design allows respiration and ventilates your hands, keeping them dry and clean. It increases hygiene and reduces odor and bacteria. The gloves also come in handy for several forms of martial arts and not just boxing. It can be used in sparring, bag/pad workouts, kickboxing and mitt work. The product is value worth and has decent pricing that you can spare.
What to look for when choosing the best boxing gloves for women?
Size
It's important to pick the right size of gloves for better and comfortable training or workout. The gloves must fit your hands well and must allow flexible movement. There aren't any standard sizes because of which you must very importantly, try the gloves on before purchasing them.
Test them out with hand wraps on and figure out the right size that fits you. There is always the new feel of a pair of gloves that fades away after a while and your gloves mould naturally to your hands. Be sure to wait for this to happen before you dismiss your pair of gloves. If it doesn't then you'll know that you haven't bought a good pair.
Weight
Gloves come in weights that are measured in ounces (oz) and each type of measure of an ounce is suitable for different kinds of form or competition. Be sure to know your needs and preferences before you go ahead because then you'll know which weight you have to pick.
The glove weight comes after picking your size and determines how much padding and protection the glove holds as well. For beginners, it is usually a heavier pair that is used for extra protection. The weight ranges from 6 to 18 oz. The lighter weights are used to compete (6-10 oz) and the average sizes are used for sparring (12-14 oz) whereas, the heavier ones are used in heavy bag work and performance improvement (16-18 oz).
A common misconception is basing the weight of the glove on your body size and weight. However, it the purpose of the gloves that you must take into account when choosing. 
Material
The type of boxing you're going for determines the material slightly. It is usually leather that is preferable for use. It is durable, comfortable and easy to use as compared to lace. It helps you break-in easier as well. Depending upon your budget, if you can, then it is better that you aim at buying genuine leather.
If you're looking towards workouts and fitness, then pick PU gloves i.e. polyurethane gloves coated with nylon that works best for that purpose. It is more cost-effective as well. In both leather and PU, there are Velcro straps that are more feasible to tie by yourself than with lace which requires tightening by your partner.
The interior requires lining that helps keep the padding and your hands apart while training. This allows hygiene and respiration. Open finger design, where the thumb isn't attached to the lining is a good option as well, along with thumb lock. Vinyl is a good option for beginners since it is cost-effective and easy to clean. You can upgrade as you go.
Type
This is pertaining to the kind of purpose that you will be using your gloves for. Since it is for boxing, you should be looking largely at bag gloves and sparring gloves. Bag gloves are suitable to increase speed and to work light bags. Sparring gloves help in all-around training, heavy bag work, sparring and workouts.
There are MMA gloves as well which aid in grappling, wrestling, improve speed and for MMA fighting. If its bag work that you're looking to do, then choose bag gloves and mitts. They help increase speed and work with lighter weights. You're focusing more upon increasing your speed here.
They'll help with sparring and training as well and can be used on light bags. Sometimes, it is best to have different pairs for different activities like sparring and training.
Under the Gloves
Hand wraps are important from hand, wrist and knuckle protection. Even if gloves offer to pad for protection, hand wraps help to protect your hand bones.
Especially, when throwing repeated punches, you are bound to break something if you aren't wearing hand wraps. Along with extra protection, hand wraps also help to absorb blood from the knuckles as well as sweat to keep your hands ventilated.
Elastic wraps are popular and help with elasticity and cooling and even keep away odors. For women, brands like Reebok and Pro Box offer great hand wraps.
Price
If you're a beginner, it is better to purchase a pair that isn't expensive and is cost-effective. This helps if you're unsure of taking up the sport for the long-term.
Conclusion
If you're really serious, then it's good to invest a little extra in the pair that you buy so that you can avail more features. Each brand has its own type of quality and padding and offers different extents of different features. It's really in your comfort and preference to pick the ones you can invest in.
Women in boxing, whether for competition or workout, is a great thing to see. It all lies in your comfort that comes from the kind of gear you use so that you can develop proper skill and great interest in the sport.