We often see how the boxers spend hours in the ring without getting tired. Like any sport, boxing also requires a lot of back-end exercises to make the movement of the boxer swift and agile. Jump rope is one of the best exercises for the boxers.
Top 7 Best Jump Rope for Boxing Reviewed
Survival and Cross jump rope
The survival and cross jump rope is one of the best picks for beginners when they do casual skipping as well as intermediate athletes who are into hardcore training. It is made out of high-quality material which gives an amazing experience to the athlete, especially with its lightweight and speed. The handle is 5 inches long and the rope is 10 feet long and adjustable to all heights. Another amazing part about this rope is that it has a lifetime guarantee on its PVC coating.
Pros
Fully adjustable: The rope is 10 feet long and the size can be adjusted according to the height of the athlete.
Ease of usage: This rope is very easy to use, it is extremely lightweight and durable. Due to its lightweight, the rope is also very fast.
Compact and portable: It is sleek, lightweight and easily fits into any briefcase or bag which will ensure that you never have an excuse for not working out.
Lifetime guarantee: One of the best parts about this product is that it provides a lifetime guarantee. If the consumer faces any problem at any time, they can directly call the customer care and they will either assist you or replace the product immediately.
Cons
Customers happen to face durability issues although the sellers give them a guarantee
This skipping rope does not have good ball bearings
The adjustment of this rope is not very easy and is effortful and time-consuming.
Crossrope Get Lean – Weighted Jump Rope Set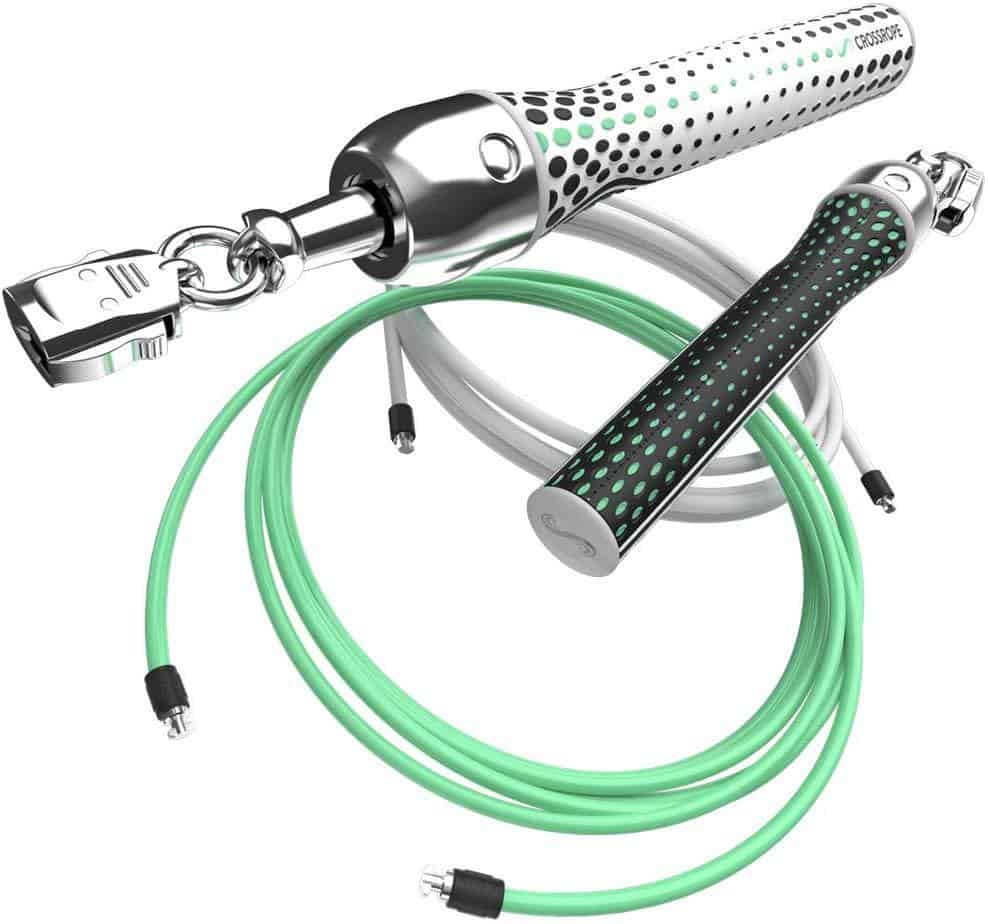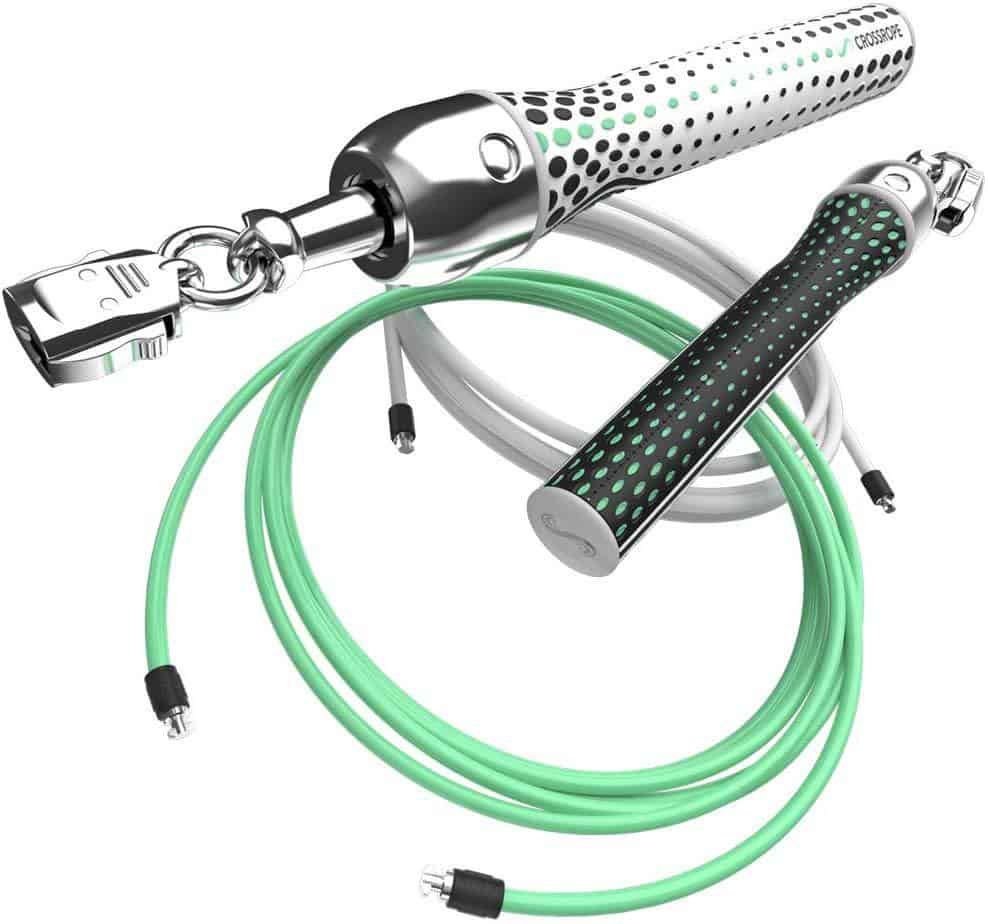 This jump rope is one of the newest models keeping in mind the intense training that people go through. Boxing is a sport that requires swiftness as well as power. Considering the fact that this rope can add on weights, it becomes ideal for people who want to stress their muscles. The handles are lightweight and durable and there are two ropes that can be attached to them, one of them is light and one is heavy, both of these serve different purposes.
Pros
Buying this rope gives you access to a cross-training app that will help you with all your workout routine. So basically, it allows you to have a personal trainer.
This rope is lightweight and durable which makes it swift and long-lasting.
This jump rope can also be used with a heavy rope which solves the purpose of those people who are looking at swiftness as well as intensity.
It is also beginner-friendly as the beginners can use the lightweight side of the rope, the handle of the rope is also very gripping.
Cons
This skipping rope is very expensive and merely beyond the range of a normal man's affordability.
DEGOL Skipping Rope Tangle-Free with Ball Bearings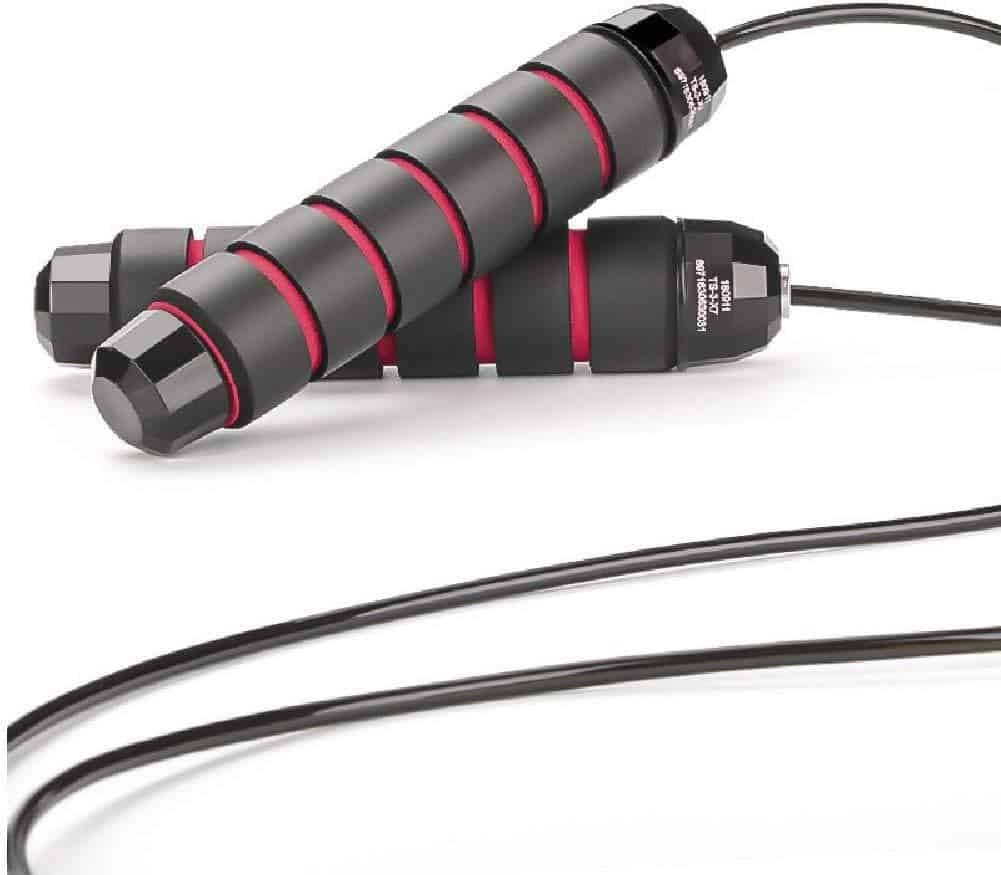 The Degol jump rope is another excellent choice and the top-ranked choice among-st all the ropes. This rope is extremely light in its weight. The handles are attached which ball bearings that allow the rope to stay untangled. It is a perfect fit if one is looking for a rope that is not very expensive, lightweight and serves the purpose. This rope also serves ideal for all kinds of sports and is very compact for carrying. It ensures that one doesn't get a chance to miss their workout!
Pros
It is extremely lightweight and helps the athletes to become swift in their movement
It is very inexpensive and affordable for any income group
Even though it is not expensive, its quality is very well maintained and the rope is PVC coated which ensures its durability and prevents the rope from any cracking or breakage
The customer service in case of any defects is very prompt and guarantee a replacement or a cashback.
The rope is 9 inches long and is adjustable according to the needs of the athlete.
It is ideal for MMA, Boxing and cross-training
The handle has ball bearings attached to it which prevent the rope from getting tangled, unlike the other ropes.
Cons
A few extremely tall people can not use this rope due to its length.
King athletic Leather jump rope
The king athletic jump rope is one of the most durable jump ropes available in the market today. This rope has steel underwires and an extra cushion padding on the handles which makes it very easy and comfortable to hold. It also improves the grip of the product. The steel underwires help the athlete to catch up with the high speed that they require. This rope was also extremely adjustable making it a perfect one for every hardcore training sport.
Pros
It is made with high-quality material that ensures its durability.
It is ideal for usage in MMA, Boxing and Cross-training due to its swift nature
The extra cushion handle ensures a very comfortable grip for the user
It is an excellent purchase if the athlete requires speed in his workout
This jump rope is also known to be very sturdy due to its steel underwires. Therefore, if you are working out in the outdoors, it will prove to be an excellent buy as the wind will not interrupt your regime.
Cons
The major disadvantage of this rope is that although it is adjustable, it a little difficult to adjust and that consumes time and effort.
Cayman Fitness Speed Jump Rope
The Cayman fitness speed jump rope is a very durable and lightweight rope which has soft handles. The rope is long enough in its length and can be adjusted to any height very easily. The handles have an extra soft cushioning which gives the athlete a very good and comfortable grip. This rope is designed specially WOD workouts, speed jumping, boxing, MMA etc. One of the best parts about buying a product from Cayman is that they ensure excellent customer service and if the customer is not happy with the product, its return or exchange policy is very simple.
Pros
Has extra soft cushions which give an excellent grip and comfort
The materials used are very durable
It is a great product for the beginners as it has all the requirements like lightweight, comfort, etc.
It is portable and compact so that one can carry it anywhere without consuming much space.
Cons
It is not easy to straighten the rope immediately and it takes some time
It is not suitable for someone who is above the height of 6 feet 4 inches.
321 Strong Aluminium Fitness Jump Rope
The 321 Strong Aluminium Fitness Jump Rope is one of the most stylish product in the market which has a pair of aluminium handles. excluding the handles, the rope measures around 11 ft which makes are very ideal and easy to adjust to all types of heights. The rope also has a ball bearing which ensures that does not tangle and has a swift movement with every jump.
Pros
It is an amazing product for double unders
It is extremely stylish and lightweight
It is a professional skipping rope
It has very sturdy handles that are durable and the rope is easily adjustable
Cons
It is not a good product for beginners, as this rope tends to speed up a lot due to its ergonomics. Beginners do not require speed, they require a rhythm, thus, a slow rope is always better for a beginner as it will create a good coordination between the hands and the legs. The rope tends to have kinks after the usage
Elite Surge Jump Rope
This rope is made out of the best quality materials. Its handles are made out of aluminium that make the rope look stylish and are very light as comfortable as well. This rope was used in the National and the World championship of Jump rope in 2015. Its ball bearings, ergonomic design, lightweight and comfort have resulted in this rope being classified and ranked as the fastest jump rope today.
Pros
This rope has an excellent grip due to its aluminium handles
It has a very stylish design
High-quality materials are used to ensure the durability of the product
Its lightweight and materials enable the athletes to perform double unders easily
Its handles have an efficiency of spinning very early and are extremely sturdy
Cons
Due to its high quality and multiple benefits, this rope is extremely expensive. It is not very good for beginners as it tends to catch up with speed very fast.
What Are the Benefits of Jump Rope for Boxers?
It is used in most of the sports as a cardio exercise, however, there are many benefits of jump rope specifically for boxing, a few of them are as follows:
It helps the sportsperson to build up their endurance and stamina
The faster the speed of the jump robe, more your muscles are getting prepared for the intense round that the boxer might face in the ring.
It improves your footwork in boxing since that sport requires the boxer to be on his toes and have a swift reflex all the time.
Jump robe causes the athlete to learn and improve the coordination of the hands and the feet which is merely necessary in every sport including boxing.
It also helps the boxer in balancing his movement.
It also acts like a challenging workout that helps the boxers in building up their mental toughness.
There are three main factors that must be considered in order to decide the best jump rope for boxing.
Length
The length of the jump rope is very important for a boxer. A lengthy rope will slow down your speed and the chances of it getting tangled up are higher, while a shorter rope will make it very difficult for you to jump through. Ideally, the beginners can buy slightly longer ropes as it will help them set their rhythm. They will not be able to grab the speed, but they will learn well in that. Eventually, the ideal size of a rope would be 16-30 inches more than the height of the person. This will help in gaining speed as well as set the rhythm.
Handle
Considering the fact that heavier handles will start hurting the hands after a while, it is ideal to look for a lighter handle to do the work. Shatterproof plastic and aluminium are very durable materials for the handle. The ideal size of a handle for anybody would be a medium-sized handle, however, if you are aiming at increasing your speed, shorter ropes do the best job.
The material of the rope
It is very important to pick up a durable material for the jump ropes. A heavy or uncomfortable handle will slow down your speed. One might want to pick up ropes made of PVC plastic or licorice. These materials are light in weight, inexpensive and do the job well. If the athlete is looking for heavier ropes, he must research before buying one and sort his need wisely.
Conclusion
Considering that boxing is a sport that requires strength, swiftness, agility and endurance, the sportsmen must choose his jump rope very wisely. If they have a high budget, they may want to go for swifter ropes with high quality. However, if they want intensity in terms of strength, they can go for the jump ropes that have added weights in them to make their work out more extreme. A jump rope is very important for a sportsman, however, the importance of jump rope in every sport may vary and a boxer must choose an ideal jump rope according to his budget, body type and his needs.